LibraryCon Celebrates All Things Comic Sunday, August 20!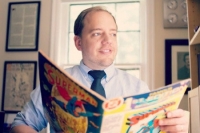 From that physical marvel, that champion of the oppressed, the one and only Superman to "everyman" Funky Winkerbean, Cleveland is the birthplace of many famous comic characters; not to mention generations of their enthusiastic fans.
While San Diego officially claims the first Comic-Con International back in 1970, Lakewood Public Library is getting into the spirit of things by celebrating our very own LibraryCon! We will have visits from local graphic novelists and cartoonists, a film marathon, a photo booth to commemorate your cosplay costume, a display from Cleveland Public Library's Superman artifacts collection and other action-packed, spine-tingling adventures!
LibraryCon is happening Sunday, August 20, 2017 from 4:00 p.m. to 8:30 p.m. in the Main Library First Floor Multipurpose Room at 15425 Detroit Avenue. Kyle J. Osborne, the creator of Shquirat; and Brad Ricca, author of Super boys: The Amazing Adventures of Jerry Siegel and Joe Shurster-the Creators of Superman, which has been featured in the New Yorker and won the Ohioana Book Award for nonfiction and the Cleveland Arts prize for literature, will be stopping by.
From 1:00 p.m. to 8:30 p.m., the LibraryCon film marathon will take place in the Main Library Basement Auditorium. We will be showing films based on graphic novels, including American Splendor, Persepolis, Crumb and Ghost World.
If you haven't already, make your way upstairs to one of Northeast Ohio's largest Graphic Novel Collections which is located in our very own Main Library Second Floor Film and Music Room. There are over 3000 Manga and Graphic titles on our shelves waiting ever so patiently to be devoured.
For a full line-up of LibraryCon events, check out Lakewood Public Library on Facebook.
Read More on Library
Volume 13, Issue 16, Posted 6:15 PM, 08.15.2017