LHS Duo Members of All Ohio State Fair Band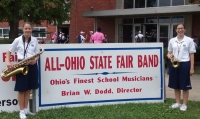 Two Lakewood High musicians are spent two weeks this summer in Columbus as members of the All-Ohio State Fair Band. The Fair Band and accompanying Youth Choir have been part of the Ohio State Fair since 1925 and 1963, respectively. Representing Lakewood in this year's band were juniors Lidia Logan and Kira Marjanovic.
This is the second year in the band for Kira, who earned the principal trumpet position for this year's band. Lidia, who plays tenor sax, is a first-year selection. Members must be recommended by their band director in order to participate.
More than 200 students from across Ohio are part the band. The group spends four days prior to the fair opening in daylong rehearsals to learn its repertoire for the 10-day fair. The fair runs July 26-Aug. 6 this year.
The band performs up to 10 times throughout the day for fairgoers, including a daily parade through the 360-acre fairgrounds. The band also traditionally performs off-site at the Statehouse and at Columbus' Park of Roses.
Kira and Lidia are two of a long tradition of Lakewood High band and choir members joining the State Fair ensembles.
Read More on Schools
Volume 13, Issue 16, Posted 6:15 PM, 08.15.2017