Lakewood Elementary School Boys Invited To Join Cub Scouts August 28 At Harding Middle School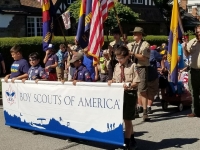 Lakewood's Cub Scout Packs announced an Open House Recruiting night Monday, August 28 at 7:30 p.m. The location is Harding Middle School. All boys in first through fifth grades can join Cub Scouts for camping, community service, and fun filled activities. The event is sponsored by the four Lakewood Cub Scout Packs. Prospective Scouts can race a Pinewood Derby car, sail a rain gutter regatta boat, test out camping equipment, and - weather permitting – launch a rocket made only of construction paper!
"When it comes down to it, boys join Cub Scouting because they want to have fun. But fun encompasses a lot more than just having a good time. It comes from the satisfaction of meeting challenges, making new friends, feeling good about himself, and feeling he is important to other people," said Bruce Banfield, Cubmaster for Pack 68 (Lakewood United Methodist Church).
Through the year, Scouts meet in small groups of boys from the same grade level called dens. Trained volunteers and parents/guardians lead the Scouts through a series of achievements, activities, events and community service. All Parents/guardians are highly encouraged to attend the Scout's meetings with him.
In addition to Den meetings with boys his own age, all of the Cub Scouts meet as a Pack typically once a month. Dens report on their activities and Scouts meeting the requirements to earn recognition are honored.
Cub Scout Packs – while each having a customized schedule and calendar - plan overnight camping trips, the Pinewood Derby, the Rain Gutter Regatta (model boat races), rocketry, seasonal parties, trips to area parks and local civic institutions. During the summer, Scouts participate in the Lakewood Fourth of July Parade, Cub Scout Day Camp, and other activities. Prospective Scouts can get a preview of that at the Open House.
"We'll have a Pinewood Derby track set up for the boys to give a trial run of a race car and have a Rain Gutter for a quick boat race," said Erica Tkachyk, Cubmaster for Pack 76 (Lakewood Catholic Academy). "We'll even set up a mock camping site. We think the highlight will be as the boys build a rocket that night – using just a few pieces of paper!"
Lakewood's Scout leaders point to the Cub Scout program of events planned throughout the year as a reason that the Cub Scout Packs are successful. Parents/grandparents/guardians and the Cub Scout have an opportunity to spend quality time together while the Scout builds friendships and learns life skills.
"More than ever, today's families can struggle to find time to spend together. Cub Scouting helps to support your family by providing ready-made opportunities for you and your boy to do things together," said Chris Salzer, Cubmaster for Pack 115 (Lakewood Presbyterian Church).
"Cub Scouts do a lot," agreed Jeff Platt, Cubmaster of Pack 72 (St Clement Church). "Camping with Cub Scouts is a fun experience – particularly if the Scout has never camped before. It's something to see the Scouts gathered around the campfire with their den skits, songs, and s'mores!!'
Prospective Scouts that cannot make the Open House night are invited to contact Mary Steele at the Lake Erie Council, BSA at 216-458-8918 or via email at mary.steele@scouting.org to get in touch with the Lakewood Cub Scout Packs. Boys in sixth grade are eligible to join Boy Scouts. Ms. Steele can connect prospective Boy Scouts with a local Troop as well.
Brian Fallon
Brian Fallon is the incoming Pack Committee Chairman of Lakewood's Cub Scout Pack 68 at Lakewood United Methodist Church.
Read More on Non-Profit
Volume 13, Issue 16, Posted 6:15 PM, 08.15.2017