District Efforts Smooth Student Transitions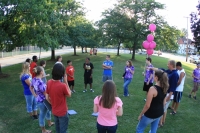 School transitions can be tough. Entering kindergarten, moving on to middle or high school. These big moments in a student's and family's life come with many different emotions and challenges. At Lakewood City Schools, administrators and teachers do their best to make the transitions as smooth as possible.
With school starting Aug. 21, the week before will be full of orientations, meet and greets and other events that are focused on making students feel welcome if they are new to the District or a school and providing them with the information and resources needed to be successful in their new educational setting.
It's important for both students and parents to feel like they know all they need to when it's time to send their child off to that much larger school than they were accustomed to, with new sets of rules and expectations.
Both Harding and Garfield Middle Schools hold orientations for students and parents the week prior to school. Lakewood High holds its two-day Fresh Start orientation the same week. Fresh Start is a student-run program that is primarily for incoming freshmen but also includes new students entering grades 10-12. The student leaders go through an application process to become Fresh Start mentors and complete a day of brainstorming and training in spring of the previous school year. The LHS PTA also offers an LHS 101 session in September where new parents can ask current parents about life at LHS.
At the elementary level, many buildings' parent-teacher organizations hold back-to-school events such as pool party or picnics for students and parents to reconnect before school starts. Grant Elementary PTA is hosting a "Meet the Teacher and Supply Drop Night" to help make the first day back a smooth one.
The transition held doesn't just apply to District students. The week of Aug. 7, new teachers spent twoo days learning the ins and outs of District curriculum, policy and procedures.
Read More on Schools
Volume 13, Issue 16, Posted 6:15 PM, 08.15.2017