Community Kickball Tournament & Carnival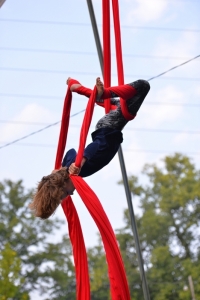 Cheer on your neighbors as they face off, Madison vs. Detroit, at Jimmie Foxx Memorial Baseball Field on Sunday, August 27, 2017, for the first-ever Kauffman Park Kickball Tournament & Carnival. Games (best two out of three) will last 7 innings or 45 minutes, whichever comes first. Adults and children 14 and older are invited to play. Registration is $10 for an individual, $25 for a business "celebrity." All proceeds benefit improvements to Kauffman Park.
Attendees will be treated to a performance by the Sokol Aerial Circus. Daring drops, dizzying spins, and audacious grace high, high, high up in the air with performances on silks, lyra, stilts, and hoop in singles, doubles, and triples fill this family-friendly show with comedy, beauty, and many moments that will take your breath away!
Make sure to get a snack from concessions and dinner from the local food trucks!
Schedule of events:
1-2:30 pm Game 1 & 2 and face painting
2:30- 3 pm Sokol Aerial Circus
3:15-4 pm Game 3
3-5 pm Local food trucks
For more information and to register, visit www.kauffmanparkfriends.org. Kauffman Park is located behind Discount Drug Mart at 15450 Detroit Avenue in Lakewood.
We need volunteers!
Contact us at KauffmanPark@gmail.com if you'd be interested in helping us promote the event beforehand or representing Kauffman Park Friends, refereeing, passing out information, etc. during the game.
Read More on Non-Profit
Volume 13, Issue 16, Posted 6:15 PM, 08.15.2017