Take Action: Unchain The Vote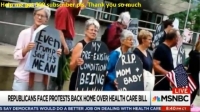 Take a stand against voter suppression in future elections.
Katrice Williams of the ACLU of Ohio will present a Jail Voting Toolkit for registering those incarcerated for misdemeanors and unconvicted persons awaiting trial, all of whom have the right to vote. She'll also speak about private prisons, their impact, and what citizens can do about them.
Join Action Together Lakewood Area (ATLA) for Williams' talk on Sunday, August 6, from 4:00-6:00 p.m. at Jammy Buggars, 15625 Detroit Ave., Lakewood. The meeting is free and open to all. Light appetizers will be provided. Attendees may also purchase beverages and food, but no purchase is necessary.
Protests this summer by ATLA have made national and local news. Clips of the Die-In at Senator Rob Portman's downtown Cleveland office on June 23 appeared on The Rachel Maddow Show and in the online edition of The Wall Street Journal.
ATLA also demonstrated along Vice President Mike Pence's motorcade route in Cleveland on June 28 in support of the Affordable Care Act ("Obamacare"), Medicaid Expansion, and Planned Parenthood. Some ATLA protesters wore the red robes and white bonnets of handmaids, from Margaret Atwood's bestselling novel, "The Handmaid's Tale." Channel 19 news interviewed co-chair Sarah Kepple onsite and showed video of the protest.
On Sunday, August 20, those wishing to dig deeper and contribute to upcoming projects are again invited to join ATLA at Jammy Buggars from 4:00-6:00 p.m.
For updates, find us on Facebook (Action Together Lakewood Area) and Twitter (@ATLKWD).
Action Together Lakewood Area, a part of Action Together Ohio, began in December 2016 to connect, educate, and take action toward progressive political change in Ohio. It aims to create a state of well-informed citizens who regularly act in the pursuit of equality, social and environmental health, security and freedom for all individuals regardless of age, race, ethnicity, religion, ability, immigration status, and sexual orientation or identity.
Laurie Kincer is a member of Action Together Lakewood Area and a Lakewood resident since 1986.
Laurie Kincer
Member of Action Together Lakewood Area and a Lakewood resident since 1986.
Read More on Civic Groups
Volume 13, Issue 15, Posted 5:08 PM, 08.01.2017