LHS New Construction Dedication Celebration Set For Aug. 20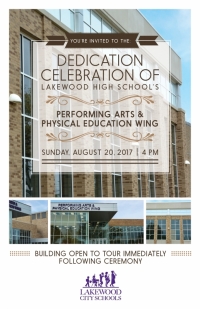 Lakewood City Schools and the Lakewood Board of Education will celebrate the opening of the new Lakewood High School Performing Arts & Physical Education Wing on Sunday, Aug. 20 at 4 pm with a dedication ceremony in front of the school, located at 14100 Franklin Blvd. Please join Board of Education members, Superintendent Jeff Patterson, Lakewood High Principal Keith Ahearn and the Lakewood Ranger Marching Band in marking this significant milestone for our community.
Following the brief dedication ceremony and ribbon-cutting, community members will be welcome to tour the new wing, which includes the cafeteria, media center, athletic offices, choir and band rooms, black box theater, eight practice rooms, music library, keyboard classroom and a prop workshop. The new gymnasium, weight room and fitness center will not be open for a tour as those areas are set to open in November. The delay is due to the addition of an indoor track and fitness center above the gym. Those two features were added after First Federal Lakewood made a generous donation to the project in September 2016.
Also available for the public to see will be the new academic wing of classrooms, which opened in January 2017, the Cleveland Clinic Children's School-Based Health Center and the new Main Office location.
Once the gym and fitness center are finished later this fall, the District will have completed all three phases of its Facilities Master Plan, began back in 2003. Since that time, the District has renovated or rebuilt all 10 of its school buildings. It is an accomplishment of which the entire city can be proud!
Read More on Schools
Volume 13, Issue 15, Posted 5:08 PM, 08.01.2017