LHS Junior Takes A Look At Lakewood Through The Eyes Of Councilwoman Cindy Marx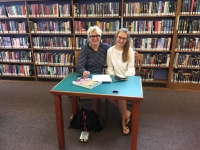 Although I have only worked as an intern on Lakewood City Councilwoman Cindy Marx's re-election campaign for just under a month, I have already learned a great deal about local politics, some of the complexities and details of running a campaign (even on this small scale), and how the levers and pulleys of city government work to turn the political gears in both state and nationwide public affairs. Whether or not I choose to walk down this path, I find this knowledge to be of great value as I make my way into the world as a member of Lakewood, the state of Ohio, and the United States. I believe that what I learn here will be indispensable as I carry out my responsibilities as a U.S. citizen-- to make thoughtful, and more importantly, educated choices about who I vote for and what I support.

I walked into this internship somewhat blindly on a recommendation from State Representative Nickie Antonio, hoping to gain a deeper insight into what exactly I want to pursue in my future. I had never met Cindy Marx, in fact I didn't even know who she was (or any of the other councilmembers for that matter), nor could I even tell you the location of City Hall. Essentially, I knew very little regarding the political scene within my own city, and over the course of this month my knowledge has grown substantially.

Considering the theme of learning and making informed decisions regarding politics at all levels, I have interviewed Cindy with a few questions inquiring about her agenda for Lakewood and her experience working as a councilmember, among other things, with the hope that you will use this information as a means of making a knowledgeable decision when voting for Council at Large in the Fall.

I personally find Cindy to be a very kind, honest, and authentic woman, qualities I value greatly, and I feel very fortunate to have her as a mentor. If I could vote, she would certainly be my choice.
Interview:
What issues do you see to have the most importance in Lakewood currently and why?
Cindy feels that the opioid crisis, the impact of lead paint on our children, and the issue of seniors aging in place are some of the most significant challenges facing Lakewood. To begin, opioid overdoses/overdose deaths have tripled in Lakewood from 2015 to 2016 (141 overdoses and 31 deaths in 2016 alone), and she is a strong supporter of Project SOAR (Supporting Opiate Addiction Recovery). The program is set to launch this fall in Lakewood, and will include services such as rapid access to treatment and recovery resources for those in need, peer support specialists to intervene with people after an overdose, and one fire station open 24 hours a day for those needing treatment referrals, among other things.

Cindy believes that the effects of lead paint on our children is an issue needing to be further addressed, as she is aware of the powerful impact on a child's development and how that will define the course of his/her life. Cindy says, "The federal and state funds to assist communities with lead paint abatement are threatened. The majority of Lakewood homes were built before 1978 which means lead paint hazards may exist. I want to engage all resources working toward creating lead safe homes for Lakewood families."

Finally, seniors aging in place is a major concern of Cindy's because she knows that an increasing number of our seniors do not have homes that accommodate their needs. "We need neighbors that help other neighbors" she says, and would like to encourage people to become more in tune with those living around them, perhaps by joining block clubs. She would also strongly encourage seniors and their families to reach out to our wonderful Health and Human Services Department here in Lakewood for access to resources that can assist in maintaining a high quality of life as we age in place. She also wants to work towards enhancing transportation options for seniors throughout the city.
How do you hope to see Lakewood grow in the next few years, and how would you like to go about helping the process?
Cindy would like to see the continued development of downtown Lakewood, and is also looking forward to the completion of the Cleveland Clinic's Family Health Center. She intends on being an integral part of the planning for our Health Center and hopes to be a continued influence on the growth of downtown Lakewood. She will also further efforts to embrace diversity, cultivate arts and culture in the city, and preserve the quality and property values of our neighborhoods (values which have increased nearly 8% since 2012 according to the Cuyahoga County Fiscal Office).

Cindy would love to see members of the community become more connected with each other and their city by getting to know one another, joining block clubs, and watching City Council meetings either in person, on TV, or by streaming them online.
What character traits do you value most in politicians and other leaders, and how do you embody these qualities?
"I value honesty and a person's ability to make decisions that most benefit the people and not the politician's political gain," she says. Truly being a representative of the people is a quality that Cindy values highly in politicians and other leaders as well. Personally, she feels that her ability to listen is essential in really hearing what the people have to say and believes it is one of her best qualities in general, but even more so as someone responsible for representing the citizens of Lakewood. She states that her service is not for personal or political gain, and she enjoys serving on Council because it allows her to participate in community engagement to grow a better Lakewood.
How has serving the City of Lakewood on Council for the past three years impacted you personally and what have you learned?
Cindy feels that serving on Council for the past three years has humbled her, and she has gained a great insight and respect for how hard it is to run a city. Managing our city's budget is a big responsibility, and she feels that City Council, our Finance Director, and the Mayor are thoughtful stewards of our taxpayer dollars. She has developed an even stronger passion for making a difference and respects our current council because they are progressive, work collaboratively with each other and the Administration, and have a great deal of respect for one another.
Why do you love Lakewood and what, in your opinion, makes it the unique city that it is?
"Look around you, how could you not love Lakewood?" Cindy says. She is extremely proud of how the city has grown, improved substantially, and stabilized over the years, referencing an article from the New York Times entitled "Older Suburbs Struggle to Compete With New." This article, published in 1995, presents Lakewood as a declining community "fighting to maintain its middle-class manner" and "struggling to fend off problems associated with cities--rising crime, dwindling services, and fading schools." The description is obviously far from the Lakewood we see today, and Cindy is energized by the prosperity, quality, and growth of our city. She feels strongly about maintaining affordable housing for first time home buyers and young families. She loves the variety of arts, culture, excellence in schools, and diversity in Lakewood, and could not imagine living anywhere else.

I hope you cast your vote for Cindy to keep her on Lakewood City Council.
Elizabeth Halko is sixteen years old, going into her Junior year at Lakewood High School, and is currently ranked first in her class. She is an officer in the LHS Model United Nations club and is considering a major in Political Science or International Relations.

Read More on
Volume 13, Issue 15, Posted 5:08 PM, 08.01.2017