LECPTA's Fall Baby & Big Kid Resale Event Is Quickly Approaching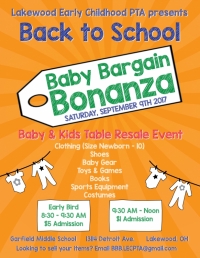 The Lakewood Early Childhood PTA (LECPTA) is once again planning its popular children's resale of gently used children's clothing (sizes newborn to 10), furniture, toys and other items. The Baby Bargain Bonanza (BBB) is planned for Saturday, September 9th at Garfield Middle School, which is located at 13114 Detroit Ave. in Lakewood. The sale is open to the public and will run from 8:30 a.m. to 12:00 p.m. Admission is $5 from 8:30 a.m. until 9:30 a.m. and just $1 from 9:30 a.m. until 12:00 p.m.
There are many good deals to be found on lots of children's gear. If it is needed for children, most likely, it can be found at the BBB! There will also be raffles taking place. LECPTA will be raffling off gift cards to local stores. Raffle tickets are one ticket for $1, six tickets for $5 or twenty tickets for $10. The tickets may be used to enter the raffle for just one gift card drawing, or split amongst the different gift cards. Winners do not need to be present to win. Raffle tickets can be purchased anytime by emailing bbb.lecpta@gmail.com. This is a great resource to take advantage of if you cannot attend the BBB but would like to get in on the fun of the raffle!
In addition to great deals on clothing and raffles, there will be a bake sale featuring homemade goodies! There will also be drinks, bagels, donuts and coffee available for purchase. There is sure to be a yummy treat for everyone at the bake sale!
All of this sounds great, right? But what if you are thinking, "I already have a closet full of kids' clothes and don't have room for any more!"? Well, maybe it is time to consider being a seller at the BBB. Everyone is welcome to sell children's items that are no longer needed. The items must be clean, free from recall and in good condition with all parts and pieces. If you are interested in becoming a seller, please visit www.lecpta.com for more information or email bbb.lecpta@gmail.com. There is an early bird sign up discount available until August 19th and we will accept registration forms until tables sell out. Whether you choose to buy or sell, LECPTA looks forward to meeting you on September 9th!
Kim Griffith & Jen Demmitt are LECPTA BBB Co-Chairs.
Kim Griffith
Kim Griffith & Jen Demmitt
LECPTA BBB Co-Chairs
Read More on Other
Volume 13, Issue 15, Posted 5:08 PM, 08.01.2017