Join The Swing Dance Party At Lakewood Public Library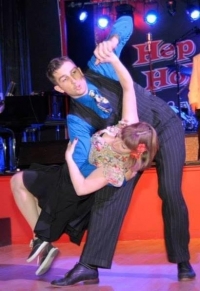 Get ready to jitterbug! On Wednesday, August 16 at 6:30 p.m., the Library will host a Swing Dance Party in the Main Library Multipurpose Room. Come alone, or bring a partner. Either way, be ready to have fun!
An introductory jitterbug lesson will be taught by Valerie Salstrom, a National Jitterbug Champion and a major player in breaking the Guinness World Record for Longest Dance Party in 2003. She will bring her experience as an instructor and owner of Get Hep Swing, a dance studio in Cleveland, to teach basic footwork patterns and a mix of spins and turns from this popular dance craze from the 1940s and 50s. Dancers will rotate partners throughout the lesson, so don't worry about bringing a partner.
The jitterbug lesson will be followed by a dance party with live music from the Scimitars Swing Band. Playing tunes from the 40s, 50s and 60s, this talented jazz orchestra is the perfect accompaniment to the jitterbug. The music of Glen Miller, Woody Herman and Duke Ellington will help participants practice their newfound skills.
Join us on August 16 at the Main Library for a swinging good time.
Read More on Library
Volume 13, Issue 15, Posted 5:08 PM, 08.01.2017