ContempOpera Cleveland Presents "Time Passages" At The Library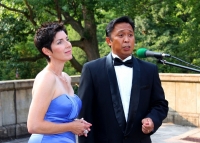 Don't miss the opportunity to hear operatic arias spanning five centuries when ContempOpera Cleveland performs "Time Passages: A Musical Journey through the History of Opera." Soprano Andrea Anelli and other artists will perform works by Jean-Baptiste Lully, Mozart, Puccini, Gershwin, and Sondheim.
Founded in 2016, ContempOpera Cleveland believes that "the human voice has the power to uplift and inspire." ContempOpera Cleveland's concert takes place on Sunday, August 13 at 2:00 p.m. in the Main Library Auditorium. As always with our Sunday with the Friends programs, admission is free and open to all.
Read More on Library
Volume 13, Issue 15, Posted 5:08 PM, 08.01.2017