6th Annual Bike For Beck Includes Super Saturday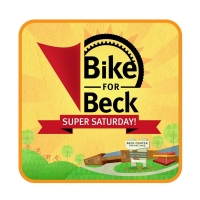 Beck Center for the Arts is hosting its sixth annual Bike for Beck, a fundraising cycling event, on Saturday, August 19. Cyclists will take to the Cleveland Metroparks between 7 and 9:15 a.m., beginning and ending at Beck Center, located at 17801 Detroit Avenue in Lakewood. Participants may choose from 12-, 25-, or 60-mile rides. The community is invited to a FREE, family-friendly arts and music festival at Beck Center from 9:30 a.m. to 1 p.m. Proceeds from Bike for Beck will benefit quality arts education programs at Beck Center. Registration is available online at beckcenter.org.
The cost for Bike for Beck is $40 per rider and includes a t-shirt and rider packet. Riders ages 12 and under are free with a paid adult rider and group discounts are available.
Beck Center's free and open to the public arts experience will begin with Super Saturday at 9:30 a.m. starting with Hear & Touch the Music in the Mackey Theater. The morning and early afternoon will continue with interactive arts activities, improv comedy with Something Dada, live music, yoga by Towpath Fitness, drum circles, face painting by Jennifer Fitchwell, and more on our front lawn! Enjoy food trucks and refreshments from Fired Up Taco, River Dog Café, and The Sweet Spot.
Parent/adult participation for Super Saturday is required. Admission is free, but tickets must be reserved at beckcenter.org or by calling 216.521.2540 x10.
A Community Welcome from Beck Center President and CEO Lucinda Einhouse, will take place at noon followed by live music on the outdoor Jackson Lewis red stage featuring the Beck Center's own The Big Finish Band and Singer/Songwriter Olivia Martinez.
Bike for Beck is sponsored by Jackson Lewis, Turner Construction, Faber-Castell, Dimit Architects, Thompson Hine, and DS Benefits Group, and supported by Beat Cycles, Cleveland Metroparks, Great Lakes Brewing Company, and Great Lakes REACT. Beck Center programs are generously sponsored by the residents of Cuyahoga County through Cuyahoga Arts and Culture and the Ohio Arts Council.
Beth Kretschmar is the director of Marketing, Beck Center for the Arts.
Beth Kretschmar
Director of Marketing, Beck Center for the Arts
Read More on Foodwood©
Volume 13, Issue 15, Posted 5:08 PM, 08.01.2017