O'Neill Healthcare Lakewood Awards Nursing Scholarship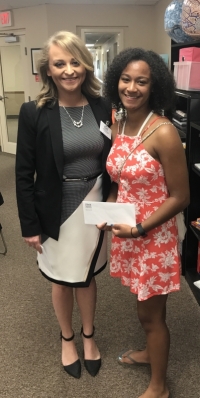 Every spring, O'Neill Healthcare Lakewood awards a scholarship to outstanding local graduating high school seniors. Each candidate is required to have a minimum GPA of 3.0, submit one academic letter of recommendation, and write a 300-word essay detailing reasons to pursue a nursing or therapy career.

This year, the scholarship recipient is Chloe Holcker. Chloe was a student in the Health Careers program through West Shore Career Technical School. Their classroom is located on the 2nd floor of O'Neill Healthcare Lakewood's Assisted Living. Through this program, Chloe received proper training to become a State Tested Nurse Aide and completed clinicals at O'Neill Healthcare Lakewood as well as Fairview Hospital.

Chloe is known by others to be a bright, personable, and kind caregiver. She is involved in community service projects and was a member of the cheerleading squad. Chloe plans to attend college this fall and continue to pursue a career in the nursing field.

The scholarship was presented to Chloe on June 29th during the Cleveland Clinic Lakewood Community Advisory Council meeting, which was held in the Health Careers classroom at O'Neill Healthcare Lakewood.

Congratulations Chloe for being O'Neill Healthcare Lakewood's scholarship recipient for 2017. We wish you the best in your future nursing career!


Read More on
Volume 13, Issue 14, Posted 12:35 PM, 07.18.2017