Lakewood High School Senior Receives Full Scholarship To Attend Michigan State University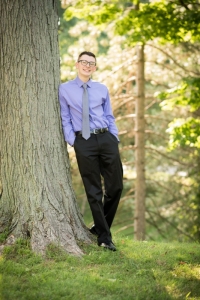 A graduating senior at Lakewood High School has received a full scholarship to attend Michigan State University (MSU) beginning this fall.
Evan Suttell of Lakewood, Ohio will be a member of the Honors College at MSU with plans to major in international relations in James Madison College. He is the son of Scott and Robin Suttell.
"MSU has both a fantastic school of public policy in James Madison as well as many study abroad opportunities that I can use to develop my understanding of the world and foreign languages," Suttell said. "Also, the Big Ten sports are a bonus, making the student life extremely vibrant and strong."
During his time at Lakewood High School, Suttell has been active in Model UN, jazz band and the Lakewood Project.
Suttell was selected from more than 1,200 of the top high school seniors who applied to MSU and took an intensive general knowledge exam in the winter. In all, 20 incoming MSU students have been awarded an Alumni Distinguished Scholarship or University Distinguished Scholarship that will cover full tuition, room and board, and a stipend for up to eight semesters of study. A committee comprised of MSU faculty and administrators selected them based on the results of the exam, high school programs, achievements and other standardized test scores. The committee also interviewed finalists.
"As students are reminded throughout the recruitment process, it is not only what Michigan State University offers them once on campus, it is also about what they will accomplish toward making our world changing university even greater," said Jim Cotter, director of admissions. "Such bright and talented students are game-changers."
The scholarships – considered among the most competitive awards in the country – are valued at about $120,000 for in-state students and approximately $200,000 for out-of-state students.
"The Honors College gives students an all-access pass to Michigan State University, breaking down barriers for talented people to flourish," said Cynthia Jackson-Elmoore, dean of the Honors College. "We congratulate these students on earning these prestigious scholarships and look forward to seeing them succeed at university."
MSU has been working to advance the common good in uncommon ways for more than 150 years. One of the top research universities in the world, MSU focuses its vast resources on creating solutions to some of the world's most pressing challenges, while providing life-changing opportunities to a diverse and inclusive academic community through more than 200 programs of study in 17 degree-granting colleges.
Stephanie Cepak
Stephanie Cepak is the communications manager for the Honors College at Michigan State University.
Read More on Schools
Volume 13, Issue 14, Posted 12:35 PM, 07.18.2017