I Can't Remember If I've Used This Title Already: Reviews Of Recent Releases By Local Bands, Pt. 51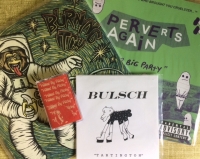 Obligatory Disclaimer: Record reviews are a tricky business. It's one thing to enjoy music, but to, like, pick out what you like about it? That being said, if I review your thing and I didn't like something, don't feel too bad. My opinion doesn't matter all that much.
Bulsch - Tartington - Blow Blood Records - 4 songs - 7", download
If you're not familiar with Bulsch, they're a band featuring members of Cruelster, The Roobydocks, Real Regular, etc. That's the most mild way of describing them. Bulsch's deal is that all their songs are in their own special language. This particular record of theirs was originally released on cassette by Saucepan, here released on vinyl by your favorite local Australian/Canadian label. "Tartington" is probably the band's best song (tied only with "Cundaloovian"– when's that coming out on vinyl?), so it makes total sense that it's the main track. After somewhere between fifteen seconds and a minute and a half of super catchy punk that makes you wanna sing along (And you can! It's got lyrics!), a zero-effort guitar solo brings the track to an abrupt conclusion. My favorite part of "Bobby Poppa" is when the suspense really builds up and then everything drops out but the bass, only for the singers (plural– there are three of them, they sing in unison) to yell something (I think it's "the," but it might be "gulch") and everything comes right back in. "Pon Toeleen" is mostly worthy of note for the guitar solo, during which the band throws around their trademark "ee oo" quite a bit– Joe (or Ton, rather, as the insert finally reveals which band member is which) throws in a particularly disgusted sounding one. If for whatever reason it hasn't struck you yet, the slow "dun dun dun-dun dun dun" part in "Inee Inee Outbawl" for some reason really drives home how sublime the whole thing is. And sure, maybe this whole thing is completely incomprehensible, but there you are pogoing and yelling "Tom-Sharpman-Samminrah!" along with the rest of them by the end of the record. That said, what the world really needs is the Bulsch concert film ("Enjoy Cleveland" doesn't count). You're kinda missing out. 4/5
(blowbloodrecords.bigcartel.com for the record, bulsch.bandcamp.com to download)
Burning Itch - Intergalactic Asshat - Heel Turn Records - 9 songs - LP
Hey, don't tell anyone this, but this band isn't from Lakewood. They're also not from Cleveland. In fact, they aren't even from Ohio at all. They (I think there's only one guy on the record, but "they" for the purposes of not making this confusing) are from Knoxville, Tennessee. Whoops! But here's your local connection: they're on Heel Turn. Good enough for me! This is a pretty solid record of good garage punk. The songs are pretty catchy and performed well. It definitely falls somewhere on the Goner–Total Punk spectrum (I'm leaning closer to Total Punk, since there are moments that remind me of Golden Pelicans– oh wait a second, Golden Pelicans are on Goner now too) if you catch my drift. My biggest complaint is that I wish there were lyrics included, or really that the vocals were mixed louder, but what can ya do. I think my favorite tracks here are "I Didn't Want To" and "The Basement," for whatever that's worth to you. I'll keep this one short and sweet (you know, since they're not local and all) and just tell you that this is a thoroughly decent and listenable record. What more really needs to be said? 4/5
(heelturnrecords.com)
Ricky Hamilton - Killed By Ricky - Objectively Good Records & Tapes - 8 songs - Cassette, download
Yep, it's our pal Ricky Hamilton again. This is his second solo release, and boy, it's a lot different from the last one. It's all punk tunes with Ricky on vocals, guitar, and drum machine, plus his frequent collaborators Adam Spektor and Carter Luckfield on clarinet and synth, respectively. As for the style of punk, I would say it's mostly grounded in the late '70s, with some other assorted junk otherwise mixed in. I don't know; when years start getting thrown around I lose myself. I don't actually know which of these are originals and which are covers (I'm a total poser when it comes to anything but local stuff), but Ricky did a good job at picking covers that sound like his originals, or vice versa, or whatever. My biggest complaint is that on some songs I think the noise that Adam and Carter are producing becomes a bit much. I'd probably rather just hear Ricky; this is a solo tape, gosh darn it! That said, there are certain tunes ("I Love It" in particular) where they do add to the track. Let's see, let's talk about individual songs here for a minute. I like how in "Apartment #9" it kinda sounds at parts like he's just ranting. The first time I ever saw Ricky do his "Hey, real talk, everyone: Hail Satan and all that" bit was during a Fascinating show, where it was a bit out of place, if I'm being honest. Here, he ups the game by just straight up doing a song called "666." Quite a good song, as well! I think my favorite might be the closing track, "Queen City," which is probably the most "pop" of the bunch (it's got handclaps, for crying out loud!). I think I heard Ricky live say that it's about Cincinnati or something, but what do I know. There's a totally ripping guitar solo at the end as well, which almost sounds out of place on a cassette built mostly on power chords and various noisemakers. So, overall: I wouldn't say that this is my favorite thing Ricky's ever done, but I think it is the most truly "punk" thing he's ever done. And though this tape lacks a lot of the more pop influence that Ricky's other projects do, it's really catchy and pretty darn good. It still doesn't sound like the Jazz Destroyers though, sorry Ricky. 4/5
(rickyhamilton.bandcamp.com)
Perverts Again - Our Big Party - Noncommercial Records - 10 songs - LP, download
Why yes, I have already reviewed this. But this is a brand new re-press with alternate artwork and I have some more thoughts about the genius of this record since it came out in November of 2015 (actually, it was for sale at My Mind's Eye and I think Hausfrau by October 31, but officially it was November). I'll try to keep this short, since you probably read the first review and already know what a great record this is. It's perverted music for perverted people, or at least that's what I'd say if I were a distro trying to sell this to perverts. This record has some total classics on it, like "I Don't Want A Phone," which, aside from being a true anthem for the youth, has one of the best lyrics ever in it: "When I'm all alun, I have no fucking fun, walk along the lake until my feet are fucking numb." I don't know about the other youths, but for me, it's a totally relatable song. These guys get me. "Our Big Party" is obviously the centerpiece of the album, and much like most of these songs, is filled with killer lines, my favorite of which is "Party…in a pool…of blood on the porch." The other thing about the greatness of this record is besides the weird-but-catchy songs, aside from the zany-but-genius lyrics, the delivery of the whole thing is unmatched. From the way the vocals are sung (or spoken, as there are a few monologues on here as well) to the "we're trying" guitar solos and sloppy drums and the bass that just marches along, the whole thing is great. You know how some people are like "oh yeah, I know every joke from every Cheech & Chong record?" I think I know every single note on this record. It's just settled into my mind that perfectly. If you don't have this yet, here is your chance to redeem yourself and get a copy. 5/5
(pervertsagain.bandcamp.com to download, go see the band or try an area record store or most good punk distros for the LP)
Are you a local-ish band? Do you have a record out? Email vaguelythreatening@gmail.com or send it directly to Observer headquarters: The Lakewood Observer, c/o Buzz Kompier, 14900 Detroit Avenue, Suite 205, Lakewood, OH 44107.
Read More on Arts
Volume 13, Issue 14, Posted 12:35 PM, 07.18.2017