"Custer's Last Fight" Finds A Home In Lakewood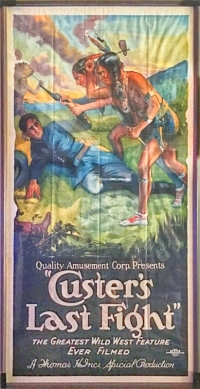 This week one of Lakewood's favorite restaurants and watering holes, the West End, got a special treat. Longtime bar patron Ray Dankel sent Parnell and the Shepards a package that when they opened it, they were amazed. A rather large, very colorful original movie poster from the 1925 Francis Ford film, "Custer's Last Fight." "Custer's Last Fight" is the re-edit of "Custer's Last Raid" with another 60 minutes of Indian fights and the now banned Sioux Ghost Dance. The film was directed by Francis Ford, older brother of legendary Western Film Director John Ford. The last one to come up for auction went for an undisclosed amount but reports were over $15,000 US. So go get a great lunch, fun dinner, one of the best Sunday brunches in town, and check out this piece of history.

Jim O'Bryan
Publisher, Lakewood Observer, Inc.
Read More on Foodwood©
Volume 13, Issue 15, Posted 12:35 PM, 07.18.2017