Yikes: Reviews Of Recent Releases By Local Bands, Pt. 50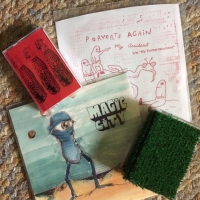 Obligatory Disclaimer: Record reviews are a tricky business. It's one thing to enjoy music, but to, like, pick out what you like about it? That being said, if I review your thing and I didn't like something, don't feel too bad. My opinion doesn't matter all that much.
Magic City - Magic City - Blow Blood Records - 4 songs - 7", download
Magic City, along with The Roobydocks and Heavenly Queen, was one of my favorite new bands of 2016. This is their debut vinyl offering. "Free" is a great late-'70s style punk rocker with wah-wah'd out guitar and great energy. I know that's reviewer-type garbage to say it has "great energy," but it really does. I'm just stupid and can't think of a better way to say that. "Oogha Boogha" is a somewhat slower hard rock tune– indie rock fans may listen to the drumming and go "hey, that sounds familiar." Just kidding, indie rock fans probably won't listen to this. "Kay" on the flip is another solid hard rock/punk song, followed by "Monster," which features some great saxophone squawking as a bonus to the already solid song. Though all four songs on this are pretty good, I think "Monster" and "Free" are really the essential tracks. Lyrically, it might not be quite what you expect from the members of the band– there's no aliens or babbling like you might expect when hearing that there's a Darvocet and a Bad Noid in this band– but that's because the vocalist (I assume she writes the lyrics, too, but I'm probably wrong) wasn't in either of those bands, and in fact has never been in any band before. Nevertheless, Julia does a great job at doing her own thing. I really wish they'd re-press their cassette, or put it on LP or something, but this 7" is quite a fine substitute. 4.3/5
(blowbloodrecords.bigcartel.com for the tape, blowbloodrecords.bandcamp.com to download)
Perverts Again - My Accident - Total Punk Records - 2 songs - 7"
I think the wait for the new Perverts Again record has been entirely too long. So was it worth it? I'd say so. The two songs here, "My Accident" and "My Embarrassment," are sort of thematically linked, as the titles imply, in that they're both about situations you really wouldn't wanna find yourself in. "My Accident" is about a visit to the doctor that goes wrong and "My Embarrassment" is about a visit to the car wash that goes wrong. Of the two, I'd pick "My Embarrassment" as the winner. The vocal delivery on the second verse is, quite frankly, outstanding. Musically, both tunes are the weird mid-tempo punk that you know and love from the kids who brought you Cruelster, and I think Perverts Again may be the only band who can use slowed down/sped up vocals and not have it annoy me. Word on the street is that the Pervs will have another LP out by the year's end, so this'll do quite well to tide you over 'til then. This record is the kind of thing that makes you laugh uncomfortably. Recommended. 4.44/5
(Sold out from floridasdying.com, try feelitrecordshop.com or an area record store)
The Roobydocks - Blow Blood Cassingle - Blow Blood Records - 2 songs - Cassette, download
If you were worried that The Roobydocks used all their good songs on their "Reliant Robin" 7", they're back already to prove you very wrong. "Norbit" is, by my best guess, the origin story of The Roobydocks' sibling band Bulsch– eat my words and eat my dust indeed. Though both tracks here are killer, it's "Never Going Stop" that really wins me over. Special points for the monologue, which might be the funniest Roobydocks moment so far. "What on earth made you think I was going stop? Seriously…" Also, something about the musical backing at that part reminds me that the original concept for this group was to be a country band. Not sure why I thought of that. The Roobydocks have proven themselves again to be one of my favorite bands going right now. The band (not sure if it's just the main two again or the full band is on this one) is really tight (the production accentuates this, while still being lower-fi than the previous release, but still really good…ah, you'll figure it out), and John might write the most misanthropic lyrics I've heard on a Cleveland record since the Flyin' Trichecos LP (see, for example, "making people hate me is the way I like to live"). Just with a lot less cocaine. As with their previous releases, if you like punk rock, this band is one that you should know and love. 4.8/5
(blowbloodrecords.bigcartel.com for the tape, blowbloodrecords.bandcamp.com to download)
Weed Whacker - Weed Whacker - self-released - 5 songs - Cassette, download
This is the debut release from Weed Whacker, Cleveland's premier self-described "yardcore" band. Personally, I would say that their music is a mix of hardcore and thrash more than just straight hardcore, but what do I know. Where does the "yard" part come in? Well, all their songs are about landscaping. "It's over, now you blow away. The whacker, something that don't f*ing play." And, "How can you think you're a man, I noticed you don't have a tan. He don't even fish. I think he's a bitch." Someone who knows more about metal and stuff than I do says that they need more guitar solos. Overall, a solid five tunes (five and a half if you wanna count "Intro" as its own track) add up to a solid demo. It's not exactly my thing, but it's not bad nonetheless. Bonus points to the group for allegedly recording this on Mr. California's 4-track and even more bonus points for the packaging, which in addition to the box having fake grass glued to it also includes a lyric sheet styled to look like a weed whacker manual. That's pretty cool. 3.3/5
(weedwhackercrew.bandcamp.com to download, go see the band live or try an area store for a tape)
Are you a local-ish band? Do you have a record out? Email vaguelythreatening@gmail.com or send it directly to Observer headquarters: The Lakewood Observer, c/o Buzz Kompier, 14900 Detroit Avenue, Suite 205, Lakewood, OH 44107.
Read More on Arts
Volume 13, Issue 12, Posted 3:03 PM, 07.05.2017