The Wonderful World Of Bubbles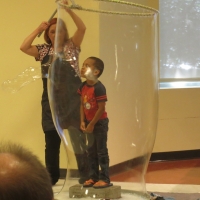 What do you get if you remove the Crocs from your feet, dip the shoes in a bucket of soapy water, and blow? You get bubbles! If this idea has never occurred to you, you are not alone. But it has occurred to The Bubble Lady, Sue Durante. Sue searches her home for everyday household items that become the tools for producing remarkable frothy creations. A piece of rope, a mesh strawberry basket, and the plastic holder from a 6 pack of soda are among the numerous objects that enable The Bubble Lady to construct magnificent balloons of soap. Come to the Library and be amazed as you witness her inflating tiny bubbles, long bubbles, giant bubbles, and a remarkable square bubble. The feat that is sure to draw the most enthusiastic response involves a small wading pool filled with a special concoction of soap, water, and glycerin and a hula hoop with a handle. The audience will marvel as the hoop is raised and volunteers are enveloped in a giant, glistening bubble.
The Lakewood Public Library will host "The Wonderful World of Bubbles" on Friday, June 30, 2017 at 3:00 p.m. in the Main Library Multipurpose Room.
Read More on Library
Volume 13, Issue 13, Posted 3:03 PM, 07.05.2017