The Green Golly Project's "Green Golly And Her Golden Flute": Ages 4 And Up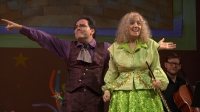 Friday, July 7, 2017 from 3:30 p.m. to 4:30 p.m.
Main Library Multipurpose Room
The mission of The Green Golly Project is to encourage children, parents and teachers to study and practice music as an empowering and vital building block in the development of a child's intellect. The Green Golly Project's illustrated storybook, "Green Golly and Her Golden Flute" by Keith Torgan was published in fall 2013 and received the Parents' Choice Gold Award and the Family Choice Award.
This live performance introduces the Green Golly and her friends in a masterful production of the award-winning book. The performance is a gateway through which children can enter into the magical world of the Green Golly and experience classical music and the flute. Enjoy this performance featuring Keith Torgan and flutist and co-founder of The Green Golly Project, Barbara Siesel. To learn more about The Green Golly Project, visit www.greengolly.com.
Julie Strunk
I am Manager of Children's and Youth Services at the Lakewood Public Library.
Read More on Library
Volume 13, Issue 13, Posted 3:03 PM, 07.05.2017