Rhythm And Grace Did It Again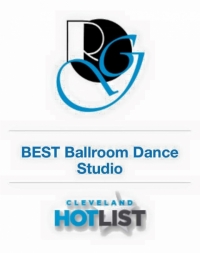 Uptown Lakewood's very own ballroom and Latin dance studio did it again!
For the second consecutive year, Rhythm & Grace Ballroom Dance Studio won Top Ballroom Dance Studio for adults on Cleveland's Hotlist! Up against over 25 other dance studios, students, friends and family, and the community voted Rhythm & Grace into the lead and they never lost it!
According to Angel & Cree Criado, "It is always a joy when our family-owned, one-instructor studio, comes out on top against some huge studios that have been around for years! We thank everyone who voted for us and we will continue to try and provid the same great services that earn us your support!"
And according to the "tips" left by students on the Hotlist, great services are exactly what Angel & Cree offer. Hotlist tips mention everything from how beautiful the studio is, to the love and knowledge the Criados have, and ends with their genuine care for their students!
If you haven't checked Rhythm & Grace out, maybe you should! Heck, they are the BEST!!!!
Cree Criado
Angel and Cree Criado are the owners of Rhythm & Grace Ballroom Dance Studio located on Madison Avenue in Uptown Lakewood Ohio.
Read More on Arts
Volume 13, Issue 13, Posted 3:03 PM, 07.05.2017