Rep. Antonio Says "No" To State Budget That Ignores Hard-working Ohioans While Prioritizing The Wealthiest 1%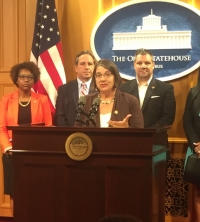 This week in Columbus, State Representative Nickie Antonio voted "no" on House Bill 49, the state's biennial budget. Amid a more than $1 billion financial shortfall, Ohio's legislative Republicans passed their state budget, leaving Gov. John Kasich less than 48 hours to review it before the start of the new fiscal year.
"This budget is chock-full of the same old recycled and ill-conceived tax shifting policies that we've seen time after time. In fact, we've seen these policies proposed in the last 3 budgets from this administration," said Rep. Nickie J. Antonio.
To shore up the state's deteriorating financial outlook, Republican lawmakers raided numerous special funds, ended local grant programs, delayed payment of certain bills and counted on a glowing economic forecast the next two years – though Ohio spent the last 54 months trailing the nation's job growth.
Republicans also propped up the state's ledger by taking $35 million in local community funding used to fight opioid addiction.
"Ohio is at the epicenter of this crisis, leading the nation in opioid and heroin overdoses and deaths. By shifting money away from our local communities, we will only allow those numbers to further increase. Local law enforcement cannot be expected to respond to the opioid epidemic if we take away the meager resources they have today and then expect a successful outcome tomorrow," said Representative Antonio. "I fear this measure within the budget will only create a more disastrous outcome in communities across Ohio, and taking away local government funds will ultimately result in forcing tax increases or cutting back our law enforcement during this critical time."
Another devastating part of the budget includes the Republican initiative to lock working people out of expanded Medicaid healthcare coverage. If federal approval is granted for the Medicaid lockout, the state estimates at least 700,000 people would lose healthcare.
"Quite frankly, this budget passed by Republicans will restrict access to healthcare for veterans, single mothers, and other hard working low-income people. We know that restricting access to care has never made anyone safer, healthier or more financially stable, and it won't start now. We cannot cut ourselves to prosperity," said Rep. Antonio.
During the months-long budget process, House Democratic lawmakers called on Republicans to come together on economic and tax reforms that would put $200 million in real money against opioid addiction while walking back six years of tax-shifting that has seen Ohio trail the nation in job creation and shift to poverty-wage jobs. Democrats also said the state could better attract new businesses and good-paying jobs by rebuilding local communities and prioritizing education funding for every student to earn the skills they need to compete.
As this crippling budget heads to Governor Kasich's desk for his signature by July 1, Representative Antonio is urging the governor to do what is right for Ohioans by vetoing the Medicaid expansion freeze and the shifting of Local Government Funds to the state.
Nickie Antonio
State Representative Nickie J. Antonio (D-Lakewood) is honored to be serving her fourth term in the Ohio House of Representatives. Representing the 13th House District, she was also appointed to serve on the Democratic Caucus leadership team as Minority Whip during the 132nd General Assembly, having previously served as Minority Whip in the 131st General Assembly, and Assistant Minority Whip for part of the 130th. Antonio's district includes the City of Lakewood and parts of Cleveland's West Side: The Detroit Shoreway (Gordon Square Arts District), The Stockyards, West Boulevard, Cudell, The Village of Linndale, and a section of Ohio City neighborhoods.
Antonio currently serves as the highest ranking Democratic member of the Health and Aging Committee. Additionally, she serves on the Finance and Appropriations Committee, Finance Subcommittee on Higher Education, Rules and Reference Committee and the Joint Medicaid Oversight Committee. Antonio is also a member of the Ohio House Democratic Women's Caucus—previously serving as chair—and is state director for the Women Legislators' Lobby.
Rep. Antonio is known as a civic-minded public servant who is concerned with the quality of life of those around her. Her commitment to social justice advocacy spans multiple decades, extending into public policy after her election to Lakewood City Council in 2005. During her tenure on the council, Antonio chaired the Economic Development, Housing, and Human Services committees; served on the Public Works and Finance Committees; and was the council representative for both the Lakewood Hospital Board and Community Relations Board. As councilwoman, Antonio facilitated successful strategies for economic development through proactive policies such as the sidewalk-dining legislation, which reversed a long-lasting city ordinance prohibiting restaurant patrons from being seated by the sidewalk. Antonio also supported environmental legislation that reduced the rate of toxic fuel emissions. During her five-year period on the council, Antonio was a persistent proponent of diversity appreciation and understanding through the Lakewood Community Relations Advisory Commission, of which she is a founder.
The first in her family to graduate from college, Antonio holds a Master of Public Administration Degree from the Maxine Levin College of Urban Affairs at Cleveland State University and a Bachelor of Science Degree in Education, also from CSU. Antonio is an alumnus of the Harvard Kennedy School Senior and Executive Leadership program for State and Local Governments, and also a graduate of Lutheran West High School in Rocky River, Ohio.
A former special education teacher and non-profit executive director for a women's outpatient drug/alcohol treatment program, Antonio worked for nearly twenty years as a consultant for non-profits and governmental agencies in Northeast Ohio, and served as administrator for a multi-county HIV/AIDS regional planning group. While fulfilling these positions, Antonio was also an Adjunct Professor at CSU, teaching courses in Women's Studies and Public Administration. She continues her civic involvement through her leadership roles in numerous community groups such as the non-profit Cleveland Tenants Organization, of which she is a board member.
Because of the nature of her social justice advocacy and activity, Antonio is known as a collaborative community builder and organizer. She is an enthusiastic supporter of the arts and civic engagement as effective tools to develop local and statewide viability and economic success. Antonio is also a certified coach and continually advocates for the benefits to society as a whole when individuals are valued and encouraged to rise to their highest potential and purpose.
Daughters Ariel and Stacey, both Lakewood High School graduates, have made Rep. Antonio and wife Jean Kosmac very proud as the girls engage in their post-secondary pursuits.
Read More on
Volume 13, Issue 13, Posted 3:03 PM, 07.05.2017