Mars Adventures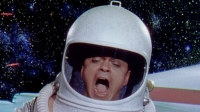 Scientists have always wondered about the possibility of life on other planets. However, to consider any planet habitable, three factors are necessary: a temperature between zero and forty degrees Celsius, water, and oxygen. With the help of rovers and satellites, scientists now believe the red planet, Mars, may have the answer. Mars and Earth have approximately the same land mass. In addition, there are signs of ice on Mars. NASA is working hard to see if there is any chance of life on our red neighbor.
Our Library will help you explore by providing a collection of movies - some funny and some serious - and speakers who will shed some light on this matter. On Saturday, July 8 at 6:00 p.m. join us for the film "Interstellar" (2014). NASA asks Cooper (Matthew McConaughey) and other scientists to go on a mission into a wormhole to find a new home on another planet. Cooper has to choose between saving humanity and risking his family, or staying behind. On Monday, July 10 at 6:30 p.m. we will show the documentary "One Way Astronaut" (2014). Four people are willing to go to Mars on a one-way trip and never return to see their loved ones.
On Wednesday, July 12 at 7:00 p.m. Jim Simek will present "Mars Mission and Discoveries." Simek joined NASA in 1977 and served in the U.S Air Force as a Radio Maintenance Technician. Simek will help us learn more about the geology and possibility of living on the red planet, Mars. On Wednesdays, July19 and 26 at 7:00 p.m., Dr. Geoffrey Landis will present "Exploring Mars." Landis is a scientist from the NASA Glenn Research Center who works on developing advanced technologies for exploring space. He was a member of the Rover team on the Mars pathfinder mission.
On Saturday, July 22 at 6:00 p.m. the Library will show the film "Conquest of Space" (1955). In this film, an American-led team of International astronauts leave their space station on the first mission to Mars. On Monday, July 24 at 6:30 p.m. we will show Sam Klemke's "Time Machine" (2015). In 1977, Sam Klemke began obsessively documenting his entire life on film. That same year, NASA launched the Voyager Space Craft into deep space. Voyager was carrying the "Golden Record," a portrait of humanity that would attempt to explain humanity were it to meet any extraterrestrials along the way. This film presents Sam's journey and NASA's "Golden Record" side by side, offering a glimpse of one man's life and one nation's self-reflection.
All of the above programs take place in the Main Library Auditorium.
Read More on Library
Volume 13, Issue 13, Posted 3:03 PM, 07.05.2017