Bullock Announces Run For Re-Election To Continue Positive Changes Seen In Lakewood Today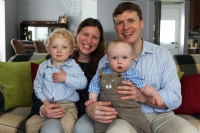 Noting that Lakewood is "a great community that's only getting better," Councilperson Tom Bullock said today he is running for re-election to continue the positive changes seen in the city today.
"It's been an honor to serve Lakewood on Council since 2008. In that time, our community has experienced many wonderful changes. Lakewood is not just on the right track—we're flourishing!" said Bullock. "I'm running for City Council to keep this momentum going, to keep these positives changes going, and to make Lakewood the best we can be."
Bullock said the aspect of the job he finds most rewarding is to listen to residents' ideas for improving the city and bringing them forward to City Council for formal consideration.
"Many of the wonderful improvements we've seen started with a conversation among neighbors at Root Café or with a citizen speaking to me at a Council meeting," said Bullock. "Lakewood is blessed with talented residents who share their know-how, and our entire community has benefited from this partnership."
Bullock said that by partnering with residents, he has accomplished a lot over the his nearly ten years of service. His major areas of focus have been to:
increase neighborhood quality through parks improvements, home remodeling, improved housing inspections, sidewalk repair, and stronger nuisance ordinances;
improve storefronts and create vibrant commercial corridors through sidewalk dining, street festivals, additional benches, safer pedestrian crossings, and—increasingly—public art;
increase street tree plantings, recycling, farmers markets, urban gardening, cycling infrastructure, and championing sustainable practices at city hall; and
maintain and improve fiscal strength by passing budgets that spend less than the City collects.
Bullock pointed to Lakewood's red-hot housing market as a measure of the city's positive momentum.
"Our housing market is among the most desired in the region," he noted. "We're attracting young families and retaining retiring residents. Lakewood is a community for everyone."
In addition, Bullock notes, five-year trends in Multiple Listing Service, a database used widely by the real estate industry, show very strong growth in sales and property values.
"The median price of a Lakewood one- or two-family home has increased 50.9 percent from 2012 to 2017. That's a growth rate a lot of investors would be envious of," said Bullock. "On top of that, days on market has halved in the same period."
What is the significance of these housing statistics? Bullock said there are at least two important conclusions to draw.
"We've turned the corner on perception and housing tastes going back a generation that viewed inner ring suburbs as starter-home communities," said Bullock. "Lakewood today is a highly-desired community; people want to be here, live here, own a home here, retire here. It's wonderful."
The second important point is that Lakewood's success is good for Lakewood families.
"Many families don't own much in the way of stocks on Wall Street. Their home is their biggest investment," noted Bullock. "Increasing Lakewood property values means that for many families, their economic future is getting stronger."
There are benefits for residents who rent, too, said Bullock.
"Housing quality is poised to improve in rental properties as well, since landlords will have an easier time getting financing to make improvements," he said.
Bullock, the most senior member of Council, has more than 20 years of professional experience in government and public service.
Bullock said he offers voters a proven record of neighborhood service, hard work, and openness to resident initiatives.
"In me, you know you will be getting a dedicated public servant. You will find no one more committed, no one harder-working, and no one more determined to make Lakewood the best it can be," said Bullock.
Bullock said he is as energized as ever to work for the community.
"If re-elected, I will work every day to improve city government, our neighborhoods, parks, and the community as a whole," said Bullock.
This November, Lakewood voters will choose the occupants of all three Council at-Large seats and two Board of Education seats. The offices of mayor, four ward councilpersons, three other Board of Education seats, and municipal judge are not up for election until 2019.
Read More on City
Volume 13, Issue 14, Posted 3:03 PM, 07.05.2017