Summer Safety for Pets: Keeping Your Pets Safe On The 4th Of July (Part 2 Of A 3 Part Series)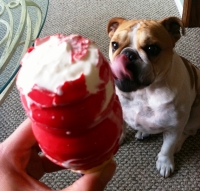 While the Fourth of July is one of the best times of year to be a resident of Lakewood, the holiday can be a nightmare for pets. Did you know that July 5th is the busiest day for animal shelters across the country? The stress and anxiety that fireworks cause in animals can lead to pets running away from home and finding themselves scared, exhausted and in dangerous situations. Your pet can panic and jump a fence or break away from a leash because of fireworks. Never leave your pet outside during fireworks and never take them with you to a fireworks display. If you believe they will experience anxiety when they hear the fireworks show, have someone stay with them during that time. Should the worst happen, and your pet runs away, make sure that their microchip is active and they have a collar with up-to-date tags that will make it easier to be reunited. Safety collars will release if your pet gets stuck on something unsafe. A little planning in advance can minimize the risks the holiday can bring.
What if you find a lost dog on July 4th? Lakewood Animal Shelter is closed on Independence Day. Animal Control Officer Kurt Bialosky advises that you can keep a friendly dog overnight and leave a message for Animal Control with a description of the dog, location where it was found and that you want them to pick it up the next day. Another option is to take the dog to the Animal Emergency Specialty Center in Brook Park, at 14000 Keystone Parkway, which is open 24 hours a day (find contact information below).
We owe it to our animals to understand the stress that fireworks can cause, take steps to reduce this stress, prevent escape from home, and maximize the chances they can be easily reunited with their families.
Whether it's an Independence Day celebration or just a summer cookout, make sure you designate a responsible person to keep an eye on your pets while you're taking care of your guests. Too often our pets are left unattended to scarf down dropped food, get dehydrated or sneak out an open gate. Make sure your pets are safe and happy during get-togethers this year.
Ask your family and friends (especially kids) not to feed your pet! Toxic foods include grapes, raisins, chocolate, onions, avocados, citrus, coconut, alcohol, nuts, dairy, and bones. Some summer treats that your dog might enjoy are green beans, baby carrots or plain popcorn. Your cat will love lean fish, broccoli or frozen corn.
Here are some tips to help keep your dog safe at home during your summer celebration:
Keep a visible tag with your name and phone number on your dog's collar.
Leave your dog home during fireworks with a frozen stuffed treat and music or, ideally, a comforting dog-sitter.
Keep fireworks, sparklers & charcoal away from dogs.
During parties, keep your dog away from the grill and bonfires.
Have treats handy so your guests don't offer non-permitted foods.
Does your pet get scared hearing the fireworks? Try a Thundershirt, which can also help during summer storms.
Make sure your dog gets exercise before parties begin.
Between the parade, fireworks and parties, your pets can experience a lot of stress all in one day. Make sure they get the attention they need during the festivities.
Stay tuned for Part Three: Environmental Safety for Your Pets.
Important Numbers - Save These in Your Phone, Just In Case!
Lakewood Animal Control / Animal Shelter
(216) 529-5020
ASPCA Animal Poison Control Center
(888) 426-4435
Emergency Vet Services
West Park Animal Hospital
After Hours Emergency Services from 6 pm - 1 am
4117 Rocky River Drive
Cleveland, OH 44135
(216) 252-4500
Animal Emergency Clinic West
Open 24/7 Including Holidays
14000 Keystone Pkwy.
Brook Park, OH 44135
(216) 362-6000
Erin Shaughnessy
Member of the Lakewood Animal Safety and Welfare Advisory Board
Read More on Features
Volume 13, Issue 12, Posted 2:48 PM, 06.20.2017