Revisit The 2016 Cavaliers With Terry Pluto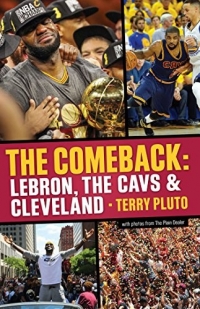 Last year, Cavs fans rejoiced. As of this writing, the Cavaliers are working their way toward another NBA Championship and it seems like a good time to revisit the spectacular events of 2016. Join Terry Pluto, columnist for the Cleveland Plain Dealer, on Wednesday, June 28 at 7:00 p.m. in the Main Library Auditorium as he presents his book, "The Comeback: LeBron, The Cavs & Cleveland."
Recently named Best Sports Writer in Ohio by the Ohio Associated Press Media Editors, Pluto has been writing for the Plain Dealer since 2007. A graduate of Benedictine High School and Cleveland State University and formerly a writer for the Akron Beacon Journal, Pluto has followed the career of LeBron James since his days as a high school player in Akron, through LeBron's first stint with the Cavs, his move to Miami and return to Cleveland in 2014.
The book reflects Pluto's long association with Cleveland sports in general and LeBron in particular. Pluto began writing "The Comeback" in 2014, the year LeBron James came home and took up the challenge of leading the Cavaliers to a championship. The book covers the disappointment in Cleveland when LeBron made the decision to move to Miami through the celebrations that erupted when the Cavaliers won the NBA Championship in 2016.
Whoever wins in 2017, Terry Pluto will be at Lakewood Public Library on June 28 to discuss LeBron, the Cavaliers and "The Comeback." Books will be available for sale and signing at the event.
Read More on Library
Volume 13, Issue 12, Posted 2:48 PM, 06.20.2017