Join Easter Seals 'Walk With Me' Event And Put Hope Within Reach For People With Disabilities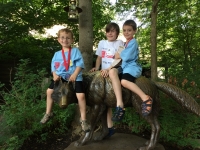 Easter Seals Northern Ohio is offering individuals, corporate teams, organizations, and families an opportunity to discover the joy of helping others by participating in a non-competitive 5K walk to benefit people with disabilities.
The 15th Annual Easter Seals Walk With Me event is scheduled for Saturday, July 8, 2017 at 9 a.m. at the Cleveland Metroparks Zoo & RainForest. Participants will not only enjoy a family-friendly walk but also full-day admission to the Zoo, children's activities, a celebration picnic luncheon and entertainment.
Each participant or team will be paired with an Easter Seals Honorary Ambassador, someone who has directly benefited from the local Easter Seals programs. Participants will have the opportunity to meet the clients and learn how Easter Seals has changed their lives.
Easter Seals strives to impact the community through the services and programs offered to people with disabilities. Programs such as speech and language therapy, homecare, and equipment loan offer individuals the opportunity to become more self-sufficient and enhance their quality of life. Proceeds from the walk will help Easter Seals expand programs for people with disabilities.
Easter Seals is proud to have the support of CVS Health and MassMutual for this year's event. To take the first step toward putting hope within reach for people with disabilities register online at www.walkwithme.org/cleveland or callEaster Seals at 440.838.0990, ext. 104.
Read More on Non-Profit
Volume 13, Issue 12, Posted 2:48 PM, 06.20.2017