Town Halls Come To Lakewood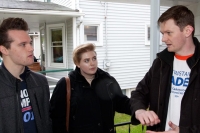 All of Lakewood is invited to a series of Town Hall meetings, beginning June 10.
City Council At-large candidate Tristan Rader says the events will focus on learning what is important to Lakewood citizens. "I'm interested in an open discussion on the issues," he explains, "I'm dedicated to not just listening to people but to getting more people involved."
Each Town Hall will open with brief introductory remarks, with progressive activist and former state Senator Nina Turner planning to address the Ward 4 Town Hall on July 8. Rader says Turner is an inspiring advocate for the kind of citizen-led change he wants to encourage, and that he's honored to welcome her to Lakewood.
As pleased as he is about Turner, Rader emphasizes that local community is the Town Halls' true centerpiece. "Elected officials and candidates get many opportunities to share our ideas and concerns," he says. "I want to give other people a platform."
Rader wants to know what's working in Lakewood and what should work better. He says he is committed to finding solutions through community-led dialogue, and that residents know the most about their city, ward, or neighborhood. All are invited for open, genuine conversation where your input matters.
Attend a Town Hall in your ward or one that fits your schedule.
Sat., June 10, 1:30-3 p.m. (Ward 1)
Harding School cafeteria
16601 Madison Ave
Sat., June 17, 1:30-3 p.m. (Ward 3)
Garfield School cafeteria
13114 Detroit Ave
Sat., July 8, Noon-2 p.m. (Ward 4)
Ice cream social followed by Town Hall
Madison Park pavilion
13029 Madison Ave
Sat., July 29, 1:30-3 p.m. (Ward 2)
Harding School cafeteria
16601 Madison Ave
For more information:
twrader@gmail.com
Read More on Other
Volume 13, Issue 11, Posted 12:39 PM, 06.06.2017