Recent Grad Reflects On LHS Experience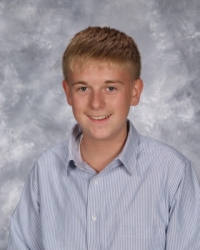 High school is a pivotal time in many kids' lives. It is a time when they start to think about what they want their future to hold and take the steps to make it a reality. It is a time when they start to discover who they are and what characteristics they want to define them. For me, high school has been this and more, but it is all because of where I went and those who were there to support me along the way.
When my time at Lakewood High School began in 2013 I was focused on getting good grades and adjusting to a new school. I had known for years that attending college was a goal of mine and it would take a lot of hard work in each of my classes to get there, but what I didn't know is how much more involved I would get at Lakewood High, even outside the classroom. With each year came a new adventure and a new club or activity that I got involved in, and looking back on it, I wouldn't have changed a thing. As I got more involved at Lakewood High I found myself starting to figure out who I was and who I wanted to be, and with that came more growth. I started to develop my leadership skills and understand the importance of inclusiveness and fairness in all situations. Through groups such as Help to Others, Student Council, AYF Leadership Club and swimming, I began to implement these skills and make a lasting impact with them.
In regards to academics, Lakewood High offers a wide range of challenging courses backed by teachers ready to help, providing more opportunity for success. During my time at Lakewood High I didn't just take classes to fulfill necessary credits or purely learn certain material, but rather to immerse myself into an environment filled with peers, all with similar goals--goals that would not have been achieved unless we were pushed to think critically by our teachers, and encouraged to find new ways to study. At the beginning of every year I remember sitting in class going over the syllabus for the course and being nervous about my ability to reach the standards set for me. But every year the classes I was most nervous for ended up being the ones I learned the most from, the ones that taught me the most life lessons, along with the material.
As my time at Lakewood High has concluded, and I now prepare for my next journey at The Ohio State University, I reflect on all the moments shared with teachers and peers. I have come to realize that I would not be where I am today if it was not for them. But the people who make up the school are not entirely the reason why Lakewood High stands out. The thing that really sets Lakewood High apart from other schools is that it not only gives the opportunity for one kid to get involved and be successful, but rather a plethora of kids, all with different interests. Lakewood High gives the opportunity to its students to succeed, but allows them to find their own path, and take the initial step toward finding themselves. This skill, of taking the first step toward your own future is one not many schools can instill within their students, but is one that will outlive a student's four short years in high school. By outliving a student's years in high school, a skill like this can prepare them to take the first step into something new; something unknown that will confront them in the real world. And as a student who feels confident in Lakewood High's ability to set its students up for success, I can only hope a skill like this will support me as I take the next step and enter into the next chapter of my life, beyond the doors of Lakewood High School.
Read More on Schools
Volume 13, Issue 11, Posted 12:39 PM, 06.06.2017