One More Time! OK, Again!: Reviews Of Recent Releases By Local Bands, Pt. 49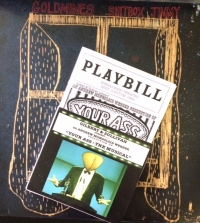 Obligatory Disclaimer: Record reviews are a tricky business. It's one thing to enjoy music, but to, like, pick out what you like about it? That being said, if I review your thing and I didn't like something, don't feel too bad. My opinion doesn't matter all that much.
Goldmines / Shitbox Jimmy - Goldmines / Shitbox Jimmy - Quality Time Records / Wax Mage Records - 7 songs (3 Goldmines, 4 Shitbox Jimmy) - 12", download
Let me start off this review by saying I have no idea what band is supposed to come first here. While the album cover lists Goldmines first, the runout etchings say that Shitbox Jimmy's side is A. For my more casual readers (i.e. the ones that have never spoken to me in person), this annoys me more than you could possibly fathom. I guess I'm going with Goldmines for now, but that could change. As someone who wasn't head over heels for Goldmines' previous 12" like it seemed like a lot of people were, Goldmines do one heck of a job here. "We Real Cool," with choruses based on the poem of the same name, has lots of guitar from Mandy Look and Jeanna Lax, which is always appreciated. Meanwhile, Roseanna Safos (you may remember her from every other band she's also in) really kills it on the drums with an especially bombastic performance while Heather Gmucs holds it all down with a darn good bassline. It's mega catchy and I would go so far as to say it's Goldmines' best song. Though the two songs that follow it don't quite live up to all that, they're both still good. "Shadow" is another catchy indie rocker, with an instrumental bit that kinda reminds me of "Psychotic Reaction" for some reason. Something about the rhythm, maybe? "Not The Lion" has got a cool ominous melody that's both sung and played by the lead guitar. I think Goldmines go three for three here. Like 'em or not, I think it's undeniable that they have some darn catchy tunes. Then ya flip the record over and Shitbox Jimmy start their side of things with an utter killer as well. "Later" is just about everything you'd want in a power pop song. It's just a crusher. On "Try Save," they get a little more garage-rockin' but it's still mega pop, and Joey Nix reminds you that just because he's playing power pop these days doesn't mean he's a wimp, he can still belt it. I like the lead guitar on the chorus– actually, I like almost everything about this song. They're really taking things in a power pop direction these days as opposed to their earlier straight garage rock sound. I suspect (actually, I don't need to suspect, I confirmed this) that Drew (that's Ritchey, the one who plays guitar and sings sometimes, not Siegel, the one who plays drums) is at least a little responsible for this. Their third tune here, "Do You Wanna" is probably the weakest song on the whole record, but for a weakest link it's still a pretty good song. I do like the little quiet part, though this tune and the last one, "Teenage Daughter" prove that even the clean, bright production that John Delzoppo did here can't render what Joey's saying comprehensible. Oh well, that's just part of his charm. Hey, speaking of "Teenage Daughter," you're not gonna believe this: it's another good power pop tune. The drums on the choruses provide an interesting rhythmic element that is not quite what you'd expect, but it works real well. Drew Siegel and bassist Jake Grace do a darn good job holding down the rhythm on this one. This band (actually, both bands here) has been around long enough that they know what they're doing. Also, I think in verse two, Joey doesn't say even one real word, but I'm willing to be corrected. As someone who was a big fan of "Deliverance" and "The Movie," it took me a few listens to come around to their new sound, but I got there. You probably will too. I think this record as a whole gets better with each listen. Hold on, can I say "darn good" one more time? Darn good. 4.8/5
(qualitytimerecords.bandcamp.com)
Various - Your Ass: The Musical - Wheelchair Full Of Old Men - 39 songs - 2xCD
Yes, this is another conceptual Wheelchair Full Of Old Men compilation. I don't even really need to say anything more, but I will anyway. The premise of this one is that all your favorite bands cover songs from musicals. It's just as good as it sounds. There are pretty straight covers, there's some grind stuff, there's that drum machine that can be found on almost every Wheelchair release…are you intrigued yet? My favorites here were The Dick Panthers' "If I Were A Rich Man" from Fiddler On The Roof, The Whores' "Fiddle About" from Tommy, Eurodisney Deathcamp's "Springtime For Hitler" from The Producers, Luciferian Parallelogram's "Zip A Dee Doo Dah" from Song Of The South…I mean, with 39 songs here, there's probably something for everyone. Not recommended to people who don't have a sense of humor, but you could say that about anything. Not only is this a great concept for a comp, but the packaging is great. It comes with a playbill. That alone is worth it. I don't think I can rate this, I think you just have to make your own decisions here.
(wheelchairfullofoldmen.bigcartel.com)
Are you a local-ish band? Do you have a record out? Email vaguelythreatening@gmail.com or send it directly to Observer headquarters: The Lakewood Observer, c/o Buzz Kompier, 14900 Detroit Avenue, Suite 205, Lakewood, OH 44107.
Read More on Arts
Volume 13, Issue 11, Posted 12:39 PM, 06.06.2017