Hawaiian Sounds Coming To A Music Classroom Near You!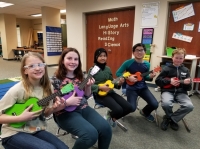 Starting this spring, students at all Lakewood elementary schools have begun learning to play the ukulele! The ukuleles are part of a new rotation of instruments that will be learned by fifth graders who are not participating in fifth grade band or orchestra. This rotation includes piano, guitar, classroom instruments, and now ukulele. It is the hope of the elementary music teachers that the students who learn to play these instruments in class will find one that they enjoy and choose to continue making music throughout their life.
These ukuleles were a generous donation from the Lakewood Music Boosters. If you would like to volunteer, or make a donation to the Lakewood Music Boosters to support music opportunities like this, please visit www.lakewoodmusicboosters.com or contact Boosters President, Tracy Logan at Lkwdmusicboosters@gmail.com.

Tiffany Fox
Aaron Waryk, Music Teacher at Horace Mann Elementary School
Read More on Schools
Volume 13, Issue 11, Posted 12:39 PM, 06.06.2017