Gordon Tower Insurance Agency Is Celebrating Our Ten Year Anniversary!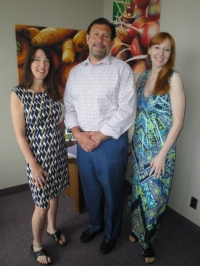 Gordon Tower Insurance has been successfully operating for a decade as of June 1, 2017. The 10 year anniversary milestone is cause for even more celebration as we moved our agency to the INA building in Lakewood from Brook Park over a year and a half ago and are very happy here.
Lakewood has been Mary and Michael's hometown for the past 18 years and where they have raised their 3 children. Michael J. Bodnar, President and Owner of Gordon Tower Insurance Agency has been successfully selling insurance as a licensed agent to a wide variety of customers for nearly 30 years. He started his insurance career with Allstate in 1988 upon graduating from college.
Michael's family comes from a long history in the insurance industry with the startup of his grandfather, prominent Attorney Gaspar A. Corso, of Ohio Valley Insurance in 1952 in East Liverpool. Gap moved Ohio Valley Insurance to downtown Cleveland in 1953, where it operated and grew exponentially until 1971. Michael became an independent agent in 1994 with Tower Insurance; the agency side spin-off from Ohio Valley Insurance.
The carrier side spin-off of Ohio Valley Insurance became Progressive Insurance in 1972. (Yes, the Monolithic Monster – we coulda been rich! lol!) Michael then took over the helm at Gordon Tower Insurance in June 2007 when prior owner Bob Gordon retired. Gordon Tower Insurance is a full service independent agency representing a wide range of insurance carriers. Customer Service Rep Melanie Johnson is also a Lakewood resident. We handle all lines of personal and commercial insurance. Unlike the big box companies where you are just a number, you get personal one-on-one support from Melanie, Mary and Michael. Our knowledge is your best protection and we have an extremely loyal client base to prove it.
Stop by and see us sometime! We are also proud of our impressive family art collection, which consists of art by Dillon, Franchesca, Garrett, Mary and brother Matt Bodnar's artwork.
Mary Bodnar
Mary Bodnar is Marketing Manager as well as Licensed Property & Casualty Insurance Agent for Gordon Tower Insurance Agency at 14701 Detroit Ave, Suite # 362 Lakewood 216/663-7777. She is also professional freelance writer who has been published in a wide range of newspapers and magazines – Great Lakes Mariner Magazine, Your Boat Connection, Cleveland/Akron Family Magazine, Lake Erie Living Magazine, CBC (Cleveland Business Connect) Magazine, Cleveland Jewish News and many other newsletters and publications over the years. She is also Editor and Press Agent for the book "Music of Our Spheres: A Collection of Ruminations" by Dillon Bodnar available on Amazon.com. She is co-host of Word Lovers Writers Retreats in Lakeside, OH w/writer friend Claudia Taller. In addition she was the Theater Critic for the Lakewood Observer Newspaper as well as being a regular contributing writer covering human interest stories for the Lakewood Observer. Mary also conducted all the extensive interviews with five ordained women that formed the core of the multi-media production "Making Waves" play. She is also an established workshop presenter and has shared her love of poetry, not only through her dance performance programs but as a poetry writing educator with a variety of groups. Her Odes Writing Poetry Workshop has received accolades from attendees. As a volunteer, she also writes and is the copy editor for her church website and other church publications.
Read More on Business News
Volume 13, Issue 11, Posted 12:39 PM, 06.06.2017