LEGO® Construction Challenge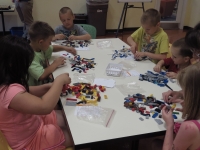 For youth in K–5th grade.
Last year, families throughout Lakewood came to the Library to click their favorite building block together in the 100th Birthday Building Challenge. It was a hit, and we're back with another set of challenges!
This year's special build will be a community effort as everyone who attends will get a chance to dive into our LEGO® bricks and create something individual and unique. While everyone's creation will surely shine on its own, it will also become part of something much bigger when you add it to our group display. More activities await as kids can also race against other kids and the clock when trying to build the tallest tower, or attempt to build the strongest bridge before we add weights until it collapses.
To join in the fun, please stop in to register, or call (216) 226-8275, ext. 140. This program takes place Saturday, May 20, 2:00 – 4:00 p.m. in the Main Library First Floor Multipurpose Room.
Read More on Library
Volume 13, Issue 10, Posted 3:13 PM, 05.16.2017