Lakewood Women's Club's First Spring Fundraiser Attracts An Influential Crowd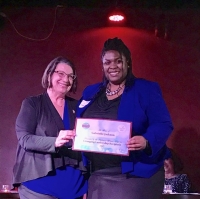 Georgetown Vosh, located in Lakewood, Ohio, hosted over 120 of the area's most influential women, Thursday, May 4, 2017, at Lakewood Women's Club's inaugural spring fundraiser, "Women Honoring Women." Laura Ponticello, award-winning author and publisher who is best known for her books "Live the Life of Your Dreams" and "The Art of Self Transformation, A Guide to Awakening," was the keynote speaker.
"Laura was the ideal keynote speaker," said Kristy Feyedelem, president, Lakewood Women's Club. "She enhanced the room's energy and brought tears to our eyes."
Ponticello did what she does superbly. She passionately shared transformational stories in hopes of empowering the attendees to awaken their infinite possibilities.
"The room was packed with such influential and remarkable women," explained Ponticello. "We celebrated what they have achieved, what we are striving to achieve, and all of our potential to achieve."
State Representative Nickie J. Antonio presented the awards for the ceremony. Eleven nominees were recognized in two award categories for their outstanding achievements – an Emerging Leader and a Distinguished Leader.
"We were here tonight to celebrate all of our achievements," said Antonio. "These three remarkable women exemplified each and every woman in that room."
The Emerging Leader was awarded to Gabrielle Jackson, 4th grade teacher at Cleveland College Preparatory School and Lakewood Community Relations Advisory Council member; and the Distinguished Leader award was presented to Celia Dorsch, Former Director at Helping Two Others (H2O) and Board of Trustee for Lakewood Charitable Assistance Corporation. A College Scholarship was also awarded to Caroline Saracina, an outstanding senior at Saint Joseph Academy.
The award winners were chosen from a number of nominations submitted by the community prior to the event. The selection committee was comprised of the current president of the Lakewood Women's Club, Torey Worron, board member and Event Chair, Melissa Meehan, former president, Ellen Todia, member and former president, and Molly McGirr, community participant.
The donations from the event will support the 2017 scholarship winner and Trinity Lakewood Community Outreach, the Club's 2015-17 non-profit recipient. Next year's nonprofit recipient was also announced. GiGi's Playhouse, a one-of-a-kind achievement center for individuals with Downs syndrome, their families, and the community, is the 2018-2020 beneficiary.
"Laura has graciously offered to donate 10 percent of all proceeds from her book-signing to the Lakewood Women's Club," said Torey Worron. "We are grateful to have had a packed room full of women honoring women!"
Lissette Rivera is Account Director at Advance 360 and Public Relations Chair for Lakewood Women's Club. She is the mother of Savanna Hepp (11), who goes to Harding Middle School and Karlo Hepp (9) who attends Lakewood Catholic Academy.

Lissette Rivera
Account Director at Advance 360. Public Relations Chair for Lakewood Women's Club. Mother of Savanna Hepp (11), Harding Middle School and Karlo Hepp (9), Lakewood Catholic Academy.
Read More on Non-Profit
Volume 13, Issue 10, Posted 3:01 PM, 05.16.2017