I Got Your Choice Quote Right Here: Reviews Of Recent Releases By Local Bands, Pt. 48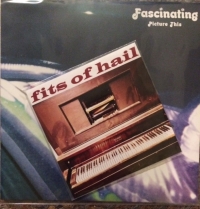 Obligatory Disclaimer: Record reviews are a tricky business. It's one thing to enjoy music, but to, like, pick out what you like about it? That being said, if I review your thing and I didn't like something, don't feel too bad. My opinion doesn't matter all that much.
Fascinating - Picture This - Quality Time Records / Jurassic Pop - 8 songs - 12", download
It seems like it's been not very long at all since "Dice Game," Fascinating's previous record, was released, but hey, what can be said other than that Ricky Hamilton is a super prolific dude. The first thing I notice about the first track "Catholic Sun" is that the production of the vocals has improved since "Dice Game." That's a step in the right direction. You gotta find the balance between too noisy and too polished. "Catholic Sun" is a good catchy pop rock tune. The "do do do" backing vocals are a nice touch. Longtime Quality Time fans will remember "It's Gone" from Ricky's solo cassette that came out at the end of 2016, but I think this version trumps that one. The guitar leads are especially cool on this one. I'm gonna miss lead guitarist Alfred Hood on the next Fascinating record, though I'm sure his replacement Adam Spektor (who is somewhat inexplicably pictured on the insert, despite not playing on this record) will do an admirable job filling his shoes. Ricky writes what could be considered very simple songs but at the same time makes them incredibly catchy. "Tryst" is but one example of this found on this particular record. I will say that it annoys me that he says "3 AM in the morning," since that's redundant, but I guess grammar policing really is not my job. Have you seen the stuff I write here? I suppose "Dangerous Times" is Fascinating's "punk" song, since it's slightly faster than the rest of them. Some article I read about Fascinating described them as sounding like the Stooges, which, no offense to whoever wrote that, is quite possibly one of the stupidest things I've ever heard. Anyway. There's a bit of a menacing sound to "Vanishing Act" and I like the harmonies on the chorus. "Sign From Above" sticks out to me because I know all these other songs so well from seeing Fascinating live. Not a bad song though, they should do it live more (I have a theory that I'm not going to write here about why they don't, but feel free to email me if you wanna know). "Under The Moonlight" is just a nice little pop song to close out the normal portion of the record, and features the kind of lyrics that you know and love from Ricky, including phrases like "ocean of feeling" and "solid action." This isn't a dig at Ricky in any way, that's just how he writes and I respect that. In fact, it's probably a compliment. Someone's gotta be talking about "solid action," and you know what? It's probably for the best that it's Ricky, as it just seems perfectly natural coming from him. The record closes with a good noisy freaker instrumental entitled "How I Killed Ann Coulter With My Mind." It's kinda out of place on the album, but I like it anyway. Another solid release from Fascinating. 4.5/5
(qualitytimerecords.bandcamp.com or jurassicpoprecords.com)
Fits Of Hail - Belmore - Sound Of The Sea - 3 songs - 7", CD, download
So, the deal with this one is that there are 2 songs on the 7" (but you get the third if you use the download code included) and 3 songs on the other formats. Just to clear that up. "Clutter," which is either track 1 or side A, depending on your format, I guess would be called alternative rock, not that that's a very good description, but I can't think of a better way to describe it. It's a solid tune anyway, with a good chorus and some nice droney fuzz guitar. "Came Through The Change" is a lot more psych-rock or maybe even stoner rock, with a hypnotic repetitive groove owing a lot to the rhythm section of Alan Grandy and John Kalman. The download/CD exclusive track, "Brandywine's," didn't grab me as much, but still wasn't bad. Overall, worth a listen. Oh, but I do want to point out how much it annoys me that the credits as relating to the photo on the sleeve are listed right to left instead of in a way that makes sense. What's the deal with that? 3.6/5
(fitsofhail1.bandcamp.com)
Are you a local-ish band? Do you have a record out? Email vaguelythreatening@gmail.com or send it directly to Observer headquarters: The Lakewood Observer, c/o Buzz Kompier, 14900 Detroit Avenue, Suite 205, Lakewood, OH 44107.
Read More on Arts
Volume 13, Issue 10, Posted 3:05 PM, 05.16.2017