Weekday Documentaries Continue At The Library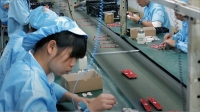 In addition to showing the popular Lakewood Public Cinema films on Saturday evenings at 6 p.m., Lakewood Public Library is also offering a series of weekday documentaries, which begin at 6:30 p.m. On Friday, May 5, 45365 will showcase small town American life with its portrayal of Shelby County, Ohio. American Revolutionary, screening on Monday, May 15, considers the life of Chinese American activist and philosopher, Grace Lee Boggs. On Friday, June 2, Death by Design reveals the dark underbelly of the electronics industry.
Other upcoming documentaries include At the Fork (a look at how farm animals are raised) on Friday, June 9, Trail Magic (Emma "Grandma" Gatewood, the first woman to solo thru-hike the Appalachian Trail) on Monday, June 12, Life Itself (a tribute to film critic Roger Ebert) on Friday, June 30, One Way Astronaut (a one-way mission to Mars) on Monday, July 10, Sam Klemke's Time Machine (Klemke's recording of his life) on Monday, July 24, and Dear Mr. Watterson (a profile of the Calvin & Hobbes cartoonist) on Monday, August 7. The Weekday Documentaries series season concludes on Monday, August 21, with the screening of a mockumentary, Comic Book: the Movie.
All weekday documentaries begin promptly at 6:30 p.m., and the films are show in the Main Library Auditorium. Admission to the documentaries is free and open to all.
Read More on Library
Volume 13, Issue 9, Posted 4:19 PM, 05.02.2017