LHS Ranked Among Best High Schools By U.S. News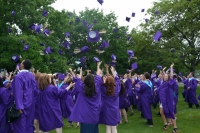 Lakewood High School has been named one of U.S. News & World Report's Best High Schools and a Bronze Medalist for 2017. The magazine awards Gold, Silver and Bronze medals according to state proficiency standards and how well schools prepare students for college.
Overall, the nation's high schools are scored on college readiness, math and reading scores and graduation rates. More than 20,000 public schools were evaluated and the schools scoring in the top 30% overall make the list. Lakewood High was ranked 167th in the state, which falls in the top 20% of the 866 Ohio schools awarded medals.
Lakewood High fell 0.5 points short in the college readiness category of qualifying for the Silver Medal status.
"We are grateful for this recognition," said LHS Principal Keith Ahearn, who also added that the college readiness ranking may not accurately reflect the full diversity of opportunities available to students at Lakewood High School. The college readiness ranking is based on participation and performance in Advanced Placement (AP) classes and tests.
"We are very proud of our 16 Advanced Placement course offerings and the students who are engaged in this rigorous course work, but we do not judge ourselves by their performance alone," Ahearn said. "We are also proud of our West-Shore Career Technical programs, where students are in classes that offer articulated college credit that will allow them to earn industry credentials or admittance to a two- or four-year technical school.
"We are proud of our students who choose to take advantage of College Credit Plus courses that are offered both on and off campus. We are proud of our exceptional performing arts programs that lead students to enroll in some of the most competitive arts and music schools in the country. And we are proud of the work our refugee and migrant students put into learning English as a second language with the hope of starting a new life here."
Ahearn continued: "In short, we are proud of the diversity of our school community and while we are grateful for this most recent recognition we recognize that our true reward is in educating all of our students to graduate as productive, passionate and responsible members of a global world."
Read More on Schools
Volume 13, Issue 9, Posted 4:19 PM, 05.02.2017