Join the Lakewood Historical Society for Some "Vintage" Fun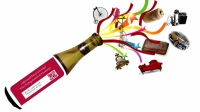 If you find yourself struggling with fun ideas for a Thursday night, the Lakewood Historical Society has a great option for you the evening of May 11th. Come and experience a whole different kind of "vintage" while supporting The Lakewood Historical Society at a fundraising evening featuring a competitive wine tasting, live music, raffles and hors d'ourves. Stroll on the grounds and through the historic Nicholson house on Detroit Avenue in Lakewood while you taste and vote for the best wine of the evening. Some lucky winner will take home cases of wine!
Our wine theme for the evening is Cabernet. Teams, consisting of 1 to 3 participants, are admitted by bringing 3 identical bottles of Cabernet to the event. For example, your team could bring 3 bottles of the 2015 Robert Mondavi Cabernet.
At the event, 1 of each team's 3 bottles are bagged, tagged and ranked by all the participants through a blind tasting. The 2nd and 3rd bottles are set aside and left unopened. The teams that brought the 3 highest ranked wines divvy up all of the unopened bottles! If 2 or more teams bring the same wine, rankings can still differ depending upon the temperature of the wine, how long it has been open, etc.
Tickets are available at lakewoodhistory.org and Lakewood Observer readers are invited to take $5 off the price of each ticket by using the promotion code OBSERVER at checkout.
Michael Crowdes
The Lakewood Historical Society collects, preserves and interprets the history of Lakewood, Ohio. The society operates the Oldest Stone House Museum, an 1834 stone house furnished to the mid-nineteenth century, and the Nicholson House, a rental facility. The society also provides a wide variety of services to the community, including award winning school programs, special events, public programs and historical research. Read More on Foodwood©

Volume 13, Issue 9, Posted 4:19 PM, 05.02.2017