Art Show Concludes Strokes Of Genius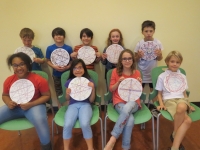 The 2017 Spring session of Strokes of Genius at the Lakewood Public Library recently ended as participating second, third, and fourth graders proudly showcased their talent at an art show for family and friends. Each week students learned about the life and work of a different artist and then completed an art project. These included watercolor paintings of birds in the spirit of John James Audubon, oil pastel abstract figure drawings in the style of Joan Miro, cut paper story quilts imitating the art of Faith Ringgold, 3 dimensional collages sparked by the work of Robert Swedroe, and chalk drawings inspired by pavement artist Julian Beever. The budding artists also enjoyed expressing themselves with a string art project.
Look for information about our next session of Strokes of Genius in the Lakewood Public Library's Fall and Winter Program Guide.
Read More on Library
Volume 13, Issue 9, Posted 4:19 PM, 05.02.2017