WordStage Literary Concerts Presents - The Literary Legacy Of The Beat Generation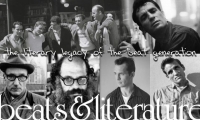 Like the French Impressionist artists of Paris, the Beat writers were a small group of close friends first, and a movement later. The term "Beat Generation" gradually came to represent an entire period in time, but the entire original Beat Generation in literature was small enough to have fit into a couple of cars.
The core group consisted of Jack Kerouac, Allen Ginsberg, and William S. Burroughs, who met in the neighborhood surrounding Columbia University in uptown Manhattan in the mid-40's. They picked up Gregory Corso in Greenwich Village. They then migrated to San Francisco where they expanded their group consciousness by meeting Lawrence Ferlinghetti, owner of the famed City Lights Bookstore who first gave them a public forum and then became a publisher of many of their works.
Most of them struggled for years to get published. Their moment of fame began with a legendary poetry reading at the Six Gallery in San Francisco.
After the first wave of Beat writers became famous, a second wave followed. Some later arrivals to the crowd include Diane DiPrima and Leroi Jones – aka Amiri Bakara. The "latter day beats" added some much needed cultural diversity, as well as an infusion of new ideas, writings from the feminine point of view and fresh talent to the core of white male friends that were the "classic beats."
The program will feature poetry and prose from this core group perfromed by Jeffrey Grover*, Agnes Herrmann*, Paul Slimak*, and Tim Tavcar and will feature a newly composed Soundscape by Master Percusionist, Paul Stranahan.
The performance will take place at The Wright Chapel of the Lakewood Presbyterian Church – 14502 Detroit Ave. at Marlowe in Downtown Lakewood, OH.
Friday, April 21, 2017 at 7:30 p.m.
Admission is a suggested donation of $10 - but WordStage maintains its policy of "Pay What You Can" in order to make their performances accessible to anyone who is interested in atending.
For more information visit our website at www.wordstageoh.com or call 216-712-6926.
*Denotes members of AEA, the professional Actors' Equity Association.
Tim Tavcar
Performing Artist Tim Tavcar began his professional Theatrical/Musical career at the Tabor Opera House in Leadville, Colorado. Since then his work as an actor, director, musician and lecturer has been seen in Cleveland, Akron, Chicago, Houston, Williamsburg, VA, Newport, RI, Washington DC's Kennedy Center, NYC's Carnegie Recital Hall and on stages and in concert halls throughout Vermont. He currently serves as an Artistic Associate for Montpelier VT's professional company – Lost Nation Theater Also in Vermont, he founded his Literary Concert Series, WordStage, in 2007, which received a Creation Grant from the Vermont State Arts Council and the National Endowment for the Arts. In addition to creating, producing and directing WordStage performances here in Ohio and as well as Vermont, he has acted and/or directed at The Beck Center, The Blank Canvas Theatre, The Cleveland Public Theatre, Cleveland State University, Dobama Theatre and The Ensemble Theatre. He is currently a resident of the Clifton/baltic area of Cleveland and is a member of the Lakewood Presbyterian Chancel Choir and the Vocal Ensemble "Good Company ".
Read More on Arts
Volume 13, Issue 8, Posted 10:01 PM, 04.18.2017