Tri-C's Bethany Thomas Named To All-Ohio Academic Team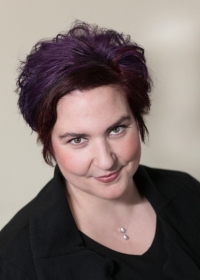 Bethany Thomas of Lakewood was one of seven students from Cuyahoga Community College (Tri-C) named to the All-Ohio Community College Academic Team, which comprises top students at the state's two-year schools.
The All-Ohio Academic Team recognizes student excellence in academics, leadership and community service. Fifty-onestudents from across the state were selected for this year's team on the basis of their outstanding records.
Tri-C had more students named All-Ohio than any other school.
Thomas expects to earn an Associate of Science degree from Tri-C in May 2017, becoming her family's first college graduate. She plans to transfer to Baldwin Wallace University in the fall to study biology, neuroscience and psychology to launch a career as a physician's assistant.
She enrolled at Tri-C more than two decades after graduating high school and arrived at Westshore Campus in Westlake determined to be involved. She holds a leadership role in the Phi Theta Kappa Honor Society chapter and is active in the Westshore Campus Gaming Club.
The third-team All-Ohio Academic Team honoree also volunteers at Hospice of the Western Reserve, All Faiths Pantry and the Lakewood Community Services Center.
Thomas joined the following Tri-C students — designated by campus — as All-Ohio:
Eastern Campus: Angelique Patton of Euclid (second team) andKouame Kouakou of Warrensville Heights(third team)
Metropolitan Campus: Heidi Hubbard of South Euclid (third team) and Adekunle Popoola of Cleveland (third team)
Western Campus: Bruce Hyde of Parma (first team) and William Funk of Parma (first team)
First-team honorees will receive $1,000 scholarships, while second-team members get $500 scholarships and third-team members $250. A recognition program for team members will be held in Columbus on April 20 during Community College Month.
The All-Ohio Academic Team program is supported by the Ohio Association of Community Colleges, Phi Theta Kappa Honor Society and Honda of America Mfg. Inc.
John Horton
Manager of Media Relations at Cuyahoga Community College
Read More on Schools
Volume 13, Issue 8, Posted 10:01 PM, 04.18.2017