Gentleman Joe's Juggling Show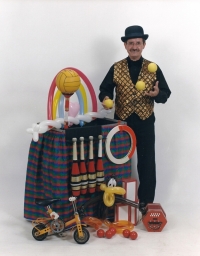 Come one, come all! Bring your family to the Lakewood Public Library to enjoy Gentleman Joe's Juggling Show. This versatile performer is a veteran of the Ringling Brothers Circus. Get ready for eye-popping balancing stunts, juggling, musical entertainment and more. All ages will be delighted with this entertaining show that combines humor, clowning and magic. Prepare to laugh and get ready to be amazed! This will be a night to remember - one that will live in your child's memory for years to come.
This event will take place on Saturday, April 29, 2017 at 7 p.m. in the Main Library First Floor Multipurpose Room, which is located in Children's and Youth Services. The show is free and open to the public and no registration is required. For details about other youth programs at the Lakewood Public Library, please call (216) 226-8275, ext. 140 or visit www.lakewoodpubliclibrary.org/youth.
Read More on Library
Volume 13, Issue 8, Posted 10:01 PM, 04.18.2017