Easter Seals Northern Ohio Offers Summer Speech Program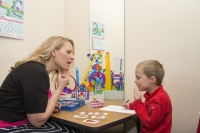 Easter Seals Northern Ohio is pleased to announce its plans for a summer speech therapy program in Lakewood. The program, which will be held at the Easter Seals office located at 14701 Detroit Ave. #470, and will offer services to children with speech and language disabilities or delays.
Easter Seals understands the importance of giving children access to speech therapy year-round. In summer speech sessions, Easter Seals helps clients maintain the level of ability they've worked all school year to obtain. In addition, they evaluate and accept new clients, children birth to school-age, who can benefit from their services.
One-on-one sessions are designed around the specific age and need of the child. Activities may include hands-on activities, language experiences and structured play. Sessions are typically a half hour and are held once a week, depending on the client's need.
Easter Seals Speech-language pathologists are experienced in pediatrics, licensed by the State of Ohio & certified by the American Speech-Language Hearing Association. Easter Seals offers a sliding fee scale and provides billing for many insurance plans, BCMH and Medicaid. For more information on the summer speech program, please call (440) 838-0990, ext. 101.
Read More on Non-Profit
Volume 13, Issue 8, Posted 10:01 PM, 04.18.2017