"Cincinnati Meets Cleveland" Features Players From Two Great Orchestras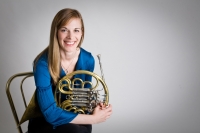 Both the Cincinnati Symphony Orchestra, founded in 1895, and The Cleveland Orchestra, founded in 1918, have long musical traditions deeply rooted in their respective city's histories. It was a young conductor named Nikolai Sokoloff who led a series of summer concerts in Cincinnati during the summer of 1918 and from there was engaged to come to Cleveland, eventually becoming the first music director of The Cleveland Orchestra in the fall of 1918.
Musicians from both orchestras will continue this early musical connection between the two cities on Monday, May 8 at 7:30 p.m. at West Shore Unitarian Universalist Church, 20401 Hilliard Blvd. in Rocky River. Three players from the Cincinnati Symphony Orchestra will join three players from The Cleveland Orchestra in performing the last concert of the Rocky River Chamber Music Society's 2016-2017 season.
The featured player will be Elizabeth Freimuth, Principal Horn of the Cincinnati Symphony since 2006. She has also performed with numerous other orchestras, festivals and ensembles. Clarinetist Benjamin Freimuth attended the Cleveland Institute of Music and performed with The Cleveland Orchestra before joining the San Francisco Symphony in 2003 and the Cincinnati Symphony in 2010. Pianist Kimberly Russ moved to Cincinnati in 2016 after serving as Resident Pianist for the Seattle Symphony for fourteen years. Violinist Katherine Bormann joined The Cleveland Orchestra in 2011 after performing with the New World Symphony in Miami, Florida. Violist and enthusiastic chamber musician Lembi Veskimets studied at the Cleveland Institute of Music before joining The Cleveland Orchestra in 1997 and was active in the Orchestra's Learning Through Music Program in the public schools. Cellist Charles Bernard joined The Cleveland Orchestra in 1992 and has been Assistant Principal Cello since 2002. He has made several recordings and currently performs with Ensemble HD.
This highly talented group of Cincinnati and Cleveland players has chosen an interesting and lively program for its May 8 concert in Rocky River. It will include works by Carl Reinecke, Franz Strauss (father of Richard Strauss), Robert Schumann, and concludes with Ernst von Dohnányi's Sextet in C major. As is true of all concerts presented by the Rocky River Chamber Music Society, there is no admission charge and all are welcome. For further information please visit www.rrcms.org, follow us on Facebook and Twitter, or call 440-333-4296.
Program, May 8:
Carl Reinecke…................Trio for Piano, Clarinet, and Horn, Op. 274
Franz Strauss……………..Seaside Impressions for Horn and Piano, Op. 12
Intermission
Robert Schumann……....Three Romances, Op. 94 for Clarinet and Piano
Ernst von Dohnányi…....Sextet in C major, Op. 37 for Violin, Viola, Cello, Clarinet, Horn and Piano
Carol Jacobs
Carol Jacobs is a retired archivist, curator, and librarian who currently serves on the board of the Rocky River Chamber Music Society.
Read More on Arts
Volume 13, Issue 8, Posted 10:01 PM, 04.18.2017