Lakewood Resident Sean Koran Is Promoted To McGown & Markling Director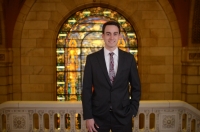 Lakewood's very own Sean Koran has been promoted to Director of the statewide law firm of McGown & Markling Co., L.P.A. Mr. Koran is a proud Lakewood resident who regularly counsels public entities, officials, and employees on a wide range of legal areas such as education law, special education, labor and employment, contracts, policies, real property taxation, pupil services, construction, and Ohio Sunshine Laws.
A few of the people who know Mr. Koran the best – his law firm colleagues – would like to share some thoughts on this exciting news.
"We are extremely proud to announce the promotion of Sean to Director," says Managing Director Matthew John Markling, who is another proud Lakewood resident and a former President of the Lakewood City School District Board of Education. "Sean is a true asset to our law firm. Coming from a family of educators, he brings an invaluable perspective to the legal issues facing our clients. Sean's passion for education is self-evident and he serves our clients as a tireless advocate."
"When I started this law firm with Matt Markling over 15 years ago, we had a clear vision of what characteristics we wanted to see in a McGown & Markling attorney: the highest integrity, great legal skill, and an unwavering focus on our clients' needs. Sean is the embodiment of those characteristics," says Co-Founding Director Susan McGown.
Director Susan G. Clark adds, "I am consistently impressed by the quality of Sean's work and responsiveness to client needs. This promotion is well deserved"
And here are a few words from new Director Sean Koran himself, who says, "I am excited to become a Director with McGown & Markling. My colleagues share my desire to provide our clients with the best possible legal representation and I look forward to continuing our valuable work together."
It's not all work for Mr. Koran. In his free time, Mr. Koran enjoys running (he is a former collegiate track and field and cross-country athlete after all) and spending time with his wife Jenni and their two dogs, as well as working on home improvement projects in his century-old Lakewood home. He is also an avid fan of The Ohio State Buckeyes and all Cleveland sports.
More information about Sean Koran and the statewide law firm of McGown & Markling can be found at www.mcgownmarkling.com.
Read More on Schools
Volume 13, Issue 7, Posted 5:10 PM, 04.04.2017