Grant 3rd Graders Love Lakewood Project - The Lakewood Public Library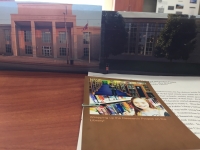 On March 24 at Grant Elementary School Mrs. Masgras' class officially showed their Lakewood independent projects to lots of people including Mayor Summers and some other people from the city. The independent projects started around the beginning of March. So first what you had to do is pick a location that you know. Second whatever location you got you had to make a 1 to 2 page essay about the history, present and maybe the possible hopes for the future. Third you had to make a model of the location that you picked and make it look a lot like the real place that you picked.
The location that I picked was the Lakewood Public Library. I picked the Lakewood Public Library because it's very popular and I love the library because it has books and movies that everyone loves. And also because it's kid friendly. Some examples of some other ones that people picked and maybe you heard of are Sweet Designs, Winking Lizard, GameStop, Souper Market and my mom's favorite, GV Art Design and many more. There were many different locations.
Finally when it was time to present on Friday March 24 in the morning we set up our locations and waited for the classes to come. Then the first class came in which were the kindergartens. They went to different people to learn about their location, then to the next and the same thing happened with the rest of the classes. Then it was finally time in the afternoon for the parents, the city council people and the people that work or own the location that you picked to come in and look at your location. So when the person that worked at the library, Mrs. Strunk, came in and looked at my project and read my paper she said "Maybe you could have this on display." And I was so happy I was going to have both my model and paper on display. And the same thing happened with some other people.
Alexandra A
3rd grade teacher- submitting work from students
Read More on Schools
Volume 13, Issue 7, Posted 5:10 PM, 04.04.2017