Grant 3rd Graders Love Lakewood Project - Kauffman Park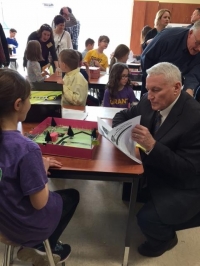 My name is Cecilia and I'm in Mrs. Masgras' third grade class at Grant school. Our independent project for the third quarter was the history of Lakewood. At first, I freaked out because we needed to type a paper, build a model, and present it within two weeks. To add to the stress, I had a million other things to do and go along with my daily life. To top it off, VIPs (the mayor, people from the council, etc.), parents, Ms. Lynch's class, and the second floor of the school were coming! For this project, first we each chose a place. Some of these places included Kauffman Park, Lakewood Park, Melt, Lion and Blue, KB Confections, the Lakewood and Madison libraries, The Sweet Spot, the Beck Center, and many other cherished places. After that, we gathered research to type a paper. Then we built a model. Next we turned it in on March 22. Finally we presented it on March 24. Out off all off these, I thought the model would be the easiest. Turns out I was wrong. I loved the process except the stress. Looking back though, I realize it was worth it to see the project unfold and to share it with the others. This project was amazing!
My project was Kauffman Park. It took me two days to build the model, and twelve days to write my paper. I turned it in two days early. My favorite thing I learned was that it used to be the French-Andrews Fruit Farm. It was owned by Collins French and Edwin Andrews. Another example of Kauffman Park's history is that it had a Little Links putt-putt course. This is later in the invisible timeline of Kauffman park. For baseball lovers, I wrote about why the baseball stadium is called the Jimmie Foxx stadium. Then I had a brain freeze for the conclusion. I thought and thought. After a while, I figured out the perfect way to end my piece. In the end, the paper was 7 pages long. I was elated to finally get it done! Now it was time for the model. First we bought the supplies. Next I planned the model. My mom made suggestions. Finally I built it. When I brought it into school, everyone clustered around me to look at it!
Finally it was time to present. First on the 24th, Mr. Patterson came. He walked around the room, and looked at each of the presentations. We had our papers in our hands and our models on our desks. Mrs. Masgras was walking around the room, clipboard in hand and ready to grade. When Mr. Patterson or Mrs. Masgras weren't at our tables, we were allowed to get up and walk around the room to see other people's projects. I first visited the Malley's Chocolates presentation, then I visited the Lakewood Library presentation. Two days later, came the big day, when we presented to everyone else. First came two adults and Ms.Lynch's class. They looked around for a bit. Then the rest was a blur. The VIPs, the second floor, and parents came and left. Susan Wagner gave me flowers. I shook the mayor's hand. He read my paper. Many people gave me compliments on my project. After most people left, the person who did Winking Lizard put out the rest off the popcorn and we ate it. Then it was time to go home. That was one day I will never forget.
Cecilia
3rd grade teacher- submitting work from students
Read More on Schools
Volume 13, Issue 7, Posted 5:10 PM, 04.04.2017