District's IT Specialist Forkins In Staff Spotlilght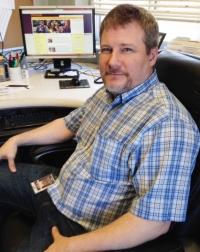 Lakewood City Schools IT network specialist Ron Forkins, the District's April Staff Spotlight honoree, says working for the Lakewood Schools is the best job he ever had.
"I get to save the day and be superman," he says. "When I show up and fix things, I make people happy."
Forkins joined Lakewood Schools 10 years ago as a computer technician. Before that, he worked in the private sector in IT. He worked at several point-of-sale companies, which came in handy as he tackled a major project for the Nutrition Services Department last spring and into the new school year installing point-of-sale systems in our school building cafeterias.
"Ron was a tremendous help and support with the implementation of the Point of Sale System," said Nutrition Services director Nancy Early who nominated Forklin. Early had the backing of all her staff as well in nominating Ron. She and her staff were particularly impressed with Forkins helping the students input their personal IDs into the system's pin pad. Forkins continues work with staff with any ongoing questions about the system. By all accounts, the transition to the new system went off without a hitch.
For his part, Forkins enjoyed the project because of the satisfaction he got helping cafeteria staff learn new computer skills. "For some, it was their first taste of the PC world," he said.
The point-of-sale project is just one of a myriad of responsibilities Forkins tackles each day as he helps maintain the District's vast technology network and equipment. It's a job he says is never routine, but District staff knows, you can routinely count on Forkins.
His boss, Paul Hieronymous agrees: "Ron is a leader within our teach team. He works very hard to meet all staff members needs in a timely fashion, treating each issue as if it were his own. He is a mentor to our newer staff members and helps the team whenever asked. Ron is a great representation of the technology team."
Read More on Schools
Volume 13, Issue 7, Posted 5:10 PM, 04.04.2017