Two LHS Students' Artwork Chosen For Governor's Exhibit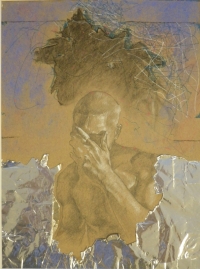 Lakewood High art students fared well in the Ohio Governor's Youth Art Exhibition regional competition, with two pieces of students' work selected to be part of the exhibition at the Statehouse next month.
Judges received more than 1,000 entries from high school students across Northeast Ohio and from those, 126 were selected to join winners from the other Ohio regions to be judged at the state level to determine which pieces of art will hang in the James A. Rhodes State Office Tower in Columbus for the exhibition, which runs from April 23-May 18. The artwork of senior Lauren Lowell and junior Elyza Mihalski (art pictured) was selected to hang in the 300-piece exhibition.
In addition to the two pieces selected to be shown in Columbus, 14 other pieces of art by LHS and West Shore Career-Tech students were honored at the regional competition and moved on to state judging. The students who earned regional recognition are: Michael Amato, Kaylee Banhidy, Clare Ciolli, Greyley Cook, Victoria Donegah, Lauren Lowell (3 pieces), Husam Mafaryeh, Faiza Manaa, Megan McHugh, Jennifer Meyer (two pieces), Elyza Mihalski, Balint Muller, Ava Olic and Sophia Parker. Their teachers are Dayna Hansen, Anne McQuay, Arline Olear and Amy Sedlak.
From the 11,500 regional entries from the 15 regions, approximately 2,500 are selected to enter the state judging. State jurors then select 300 for the actual exhibition, with 25 of the 300 chosen to receive the Governor's Award of Excellence. Scholarships are offered to seniors by over 30 universities and colleges of art. The selection of students to be offered scholarships is left strictly up to those institutions who offer them. The Governor's Exhibition is merely a vehicle through which schools and students are brought together.
The Ohio Governor's Youth Art Exhibition, now in its 47th year, is open to all of Ohio's high schools, both public and private. Its purpose is to provide all budding young artists of the state with opportunities to advance their talent, whether that be through scholarships or simply experiencing the process of entering their work in a competition.
Read More on Schools
Volume 13, Issue 6, Posted 8:14 PM, 03.21.2017