Rangers Reel In All-Conference Honors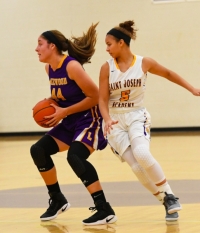 Winter sports All-Conference teams for the Southwest Conference have been announced and there are plenty of Rangers represented! These honors are nice icing on the cake of a great winter sports season.
Boys' basketball: Jacob Sala was named to the All Conference 2nd Team and Chris Golden and Raekwon Whitfield earned Honorable Mention.
Girls' basketball: Olivia Nagy was named to the All Conference 1st Team and Ryann Greenfield to the 2nd Team. Cortney Ribar and Isabel Cintron earned Honorable Mention.
Ice Hockey: Players named to the All-Division Team: Rob Holden, Will Holden, Jonas Hupcey, Donny McCrae and Mac McFarlin. Conference 2nd Team: Rob Holden; Honorable Mention: McFarlin and McRae, who also was named to the GCHSHL All-Star Game.
Swimming & Diving: Kelley Reis was 1st Team All Conference for 100-yard butterfly and backstroke. Also named to the conference 1st Team were Preston Polen (100-yard butterfly) and Evan Gainous (100-yard backstroke). The 400-yard freestyle relay team of Gainous, Polen and Nick Ferrone and Colman McGuan were also named All Conference 1st Team. 2nd Team honorees: Ferrone (200-yard freestyle); McGuan (200-yard IM); Gainous (100-yard butterfly); 200-yard free relay of Ferrone, Gainous, McGuan and Polen. Honorable Mention: Luke Healy, Joey Toole, Maggie McHugh, Julia Neff and Elizabeth Pearlman.
Wrestling: Will Rodriguez was named to 1st Team All Conference. Donovan Williams and Yousef Awad earned Honorable Mention.
Congratulations to all these hard-working student athletes and their coaches!
Read More on Schools
Volume 13, Issue 6, Posted 8:14 PM, 03.21.2017