LHS Brave The Shave Event Raises $12K For Pediatric Cancer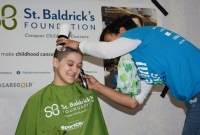 The students and staff of Lakewood High can hold their bald heads proudly as they raised more than $12,000 for pediatric cancer research and St. Baldrick's Foundation at the school's Brave the Shave event on March 16. About 30 students, teachers and other District employees and community members shaved their heads for the cause.
The event's original goal was $5,000, but the organizers soon realized that donations were coming in quickly and more people were signing up to be a shavee so they continued to bump up the goal. A two-day delay of the event due to a snow day helped boost the donations even more so that come shave day, $12,000 was the new target.
Said co-organizer and teacher Scott Stelter: "I would like to again thank everyone who has shown support in some way. We are truly fortunate to work in such a caring, loving, and considerate environment and community. Mr. (Dennis) Wondrak and I are in awe of how this school has come together to take on childhood cancers so strongly."
The St. Baldrick's Foundation is a volunteer-driven charity committed to funding the most promising research to find cures for childhood cancers and give survivors long and healthy lives. St. Baldrick's coordinates its signature head-shaving events worldwide where participants collect pledges to shave their heads in solidarity with kids with cancer, raising money to fund research. Since 2005, St. Baldrick's has awarded more than $200 million to support lifesaving research, making the Foundation the largest private funder of childhood cancer research grants.
Read More on Schools
Volume 13, Issue 6, Posted 8:14 PM, 03.21.2017